EOTD: Laura Geller Eye Dream of Italy #2
10:36 AM
Yesterday I posted the Laura Geller Eye Dream of Italy #2 collection, so here is the EOTD to go along with it! As you can see, the colors blend very well together. They are a bit "pinkier" in in the picture than in reality, but I think that the pink/lavender is the color that reflects back when my camera uses the flash.

To create this look, I used first applied Fyrinnae's Pixie Epoxy all over the lid. As I mentioned yesterday, these eyeshadows are quite jam packed with shimmer, so this ensures the shadows are applied as such. (If you don't want to see all the shimmer, and just want a hint, don't use the Epoxy). Once it was tacky, I applied the light side of the Spumoni/Sinful Praline on the inner 3/4 of the lid. I then blended the darker side on the outer corner and up into the crease. As a highlight, I used the ivory side of the Rome/Milan baked eyeshadow from the first installment of the Eye Dream of Italy collection. I then lined my lashes with Lancome Starshower Artliner, which is such a beautiful dark graphite color. This eyeliner also reflects more of a silver due to the shimmer in it, but in real life, it is much darker, but not as harsh as a jet black liner.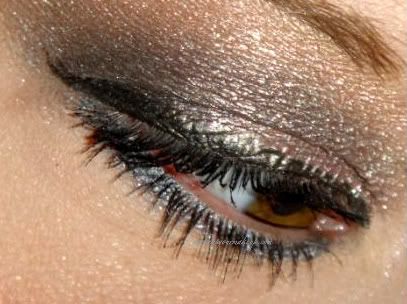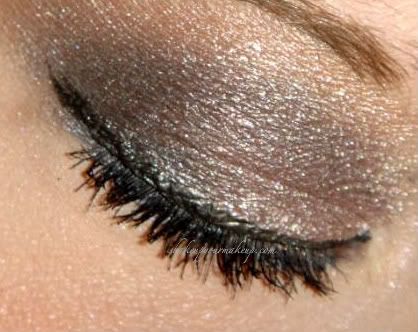 Below is the whole face, including the foundation, blush, highlighter, and lipstick. This blush is a very beautiful, subtle color. It applies very smoothly, and if you add it in layers, can become a very deep berry color, if your
skintone
allows it. Obviously, since I'm fair, I only needed one or two sweeps of the brush and I had the natural *flushed* look. As for the highlight, it isn't overly shimmery. I know there are a lot of you out there who don't want shimmer or frost, so this is a great way to get a bit of a glow without looking like a disco ball.
The
Dolce
lipstick is such a gorgeous color. It is so natural, adds just a hint of color. For as light a formula as these marble lipsticks are, I have been very pleased with the lasting and moisturizing power. They don't bleed into the skin around your lips, they don't leave you with patchy colors, and they are very complimentary of a wide range of
skintones
.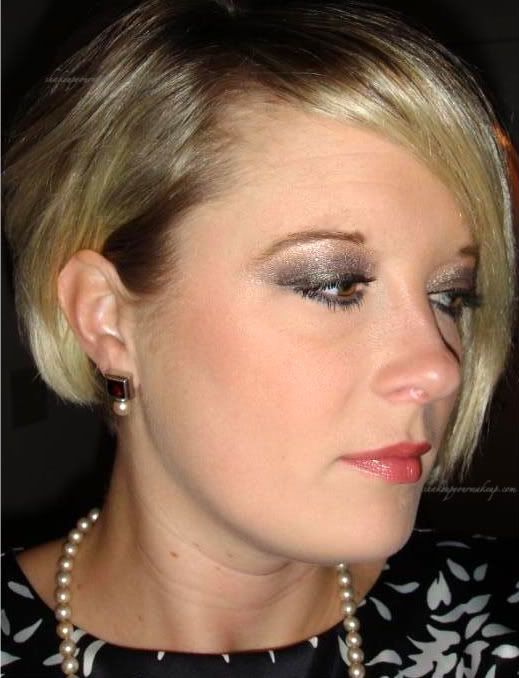 I have quite a bit to catch up on next week, so this weekend will be dedicated to getting those posts up and running.