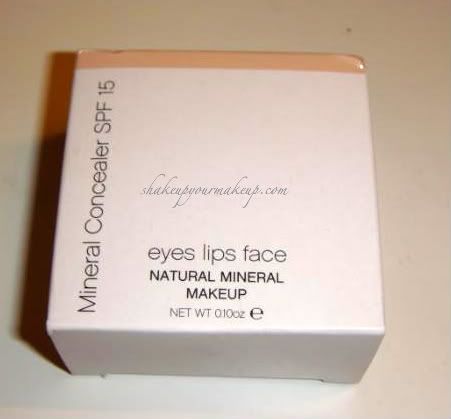 As mentioned yesterday, I went a little overboard with the remaining balance on an e.l.f. gift card I had and used the 60% off sale to my advantage. Amongst all the brushes and nail polish, I did decide to give the
eyes lips face SPF15 Mineral Concealer
a chance. As I'm sure you all know, I absolutely swear by Bare Escentuals mineral foundation and multi tasking concealer, but for $5, I figured why not?!
I apologize in advance, all the pictures are very dark for some reason!
Above, I wanted to show you what a substantial size the product is, so I compared the e.l.f. concealer (left) to the XL size of Bare Escentuals Foundation (right). That's pretty big, right? The e.l.f. comes in 0.12oz, for comparison purposes.
OK, back to the actual concealer/multi tasking comparison. Above is the e.l.f. concealer (left) compared to the Bare Escentuals Multi-Tasking Bisque (right), which is actually the smaller size container - that of an eyeshadow pot. As you can see, the fair in the e.l.f. is quite lighter than the bisque, which has the warmer and yellow undertones that are usually required to help cover up imperfections and blemishes.
In swatching the two, I did notice that the Bare Escentuals is much creamier compared to the e.l.f., which has a chalkier consistency. The e.l.f. didn't blend as well in the swatch above as the BE does, but at least you can get a color comparison for your reference.
As far as the last week's use of the e.l.f. Mineral Concealer? It's not bad, but it's not great. I do have a bit of difficulty getting it to blend into my skin and, more importantly, having it blend into the foundation once applied. I notice I look kind of like a raccoon unless I do some super-duper blending. This could be the result of the shade I chose - maybe I need something a step up in color? This could also be because of how much drier this concealer is compared to the BE, which I am quite used to applying. The product does last well, without creasing or smearing away. I noticed that if I use a dense concealer or foundation brush (I use the EcoTools foundation brush) I get the best results.
Over all, I would give this a B-. For the price, it's really quite a steal, especially when there are coupon codes for e.l.f. available.
Have any of my other readers tried the e.l.f. Mineral Concealer? I'd love to know what you think as well!