FOTD: MAC Idol Eyes, Skinfinish "Blonde"
9:19 AM
As you can see, silvers, blacks and grays have become a go-to for my makeup recently. I don't know if it's the newly discovered ease of blending with the colors I've picked, or what, but I do really like the look these can create.

After my recent purchases at the CCO, I wanted to try out the new MAC Idol Eyes eyeshadow I purchased. The color is very unique, as you can see from the swatch in my earlier post - it manages to take on a variety of colors from golds, lavenders and silvers, depending upon what it is next to. It is a very shimmery color, so this was right up my alley.



Below is the full do:

Face:
Bare Escentuals Foundation "Fair"
Everyday Minerals Intensive Multi-Tasking
Bare Escentuals Tinted Feather Light Mineral Veil
MAC Mineralize Skinfinish "Blonde"

Eyes:
Urban Decay Primer Potion
Fyrinnae Pixie Epoxy
MAC eyeshadow "Idol Eyes" - inner corner of lid
MAC eyeshadow "Black Tied" from Royal Assets palette - outer corner, crease
MAC pigment "Vanilla" - highlight
Victoria's Secret Gel Eyeliner "Black Satin"
Rimmel Volume Mousse Mascara "Black"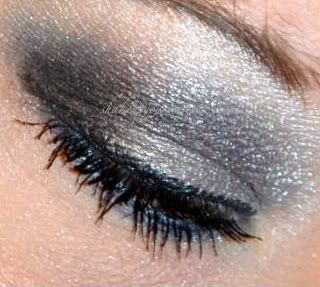 Well, we are off to start another week, and this one is going to whiz by, I can already tell by looking at my calendar! Hope you all have a great Monday!!