Laura Geller "Eye Dream of Italy" Collection
8:01 AM
Laura Geller's newest addition is the "Eye Dream of Italy" collection, which was available as a Today's Special Value on QVC about a week ago. This collection contains a full size foundation, full size blush, full size eyeshadow duo, lipstick, mascara and two brushes.



Per the QVC Website -

What is it:
The Eye Dream of Italy collection is all about warmth, ease, and living life beautifully.Who is it for: All skin tones and types.

How is it different:
A souvenir of Laura's journey through Italy, this kit includes highly crafted formulations of her rich and luxurious baked powders. Creamy liquids infused with multiple colors--sometimes as many as 10--are poured onto terra-cotta tablets and baked for 24 hours. The result is a lustrous dome of silky powder that knows almost instinctively how to make your skin look its best. Free of mineral oil and parabens, these powders are formulated with the age-fighting, antioxidant protection of centella asiatica and white tea.

How do I use it:
Balance-N-Brighten Baked Foundation creates a smooth base of color to help your skin look flawless and natural at the same time. Stroke the Retractable Brush across the powder dome and sweep it over your face. Blush-N-Brighten is Laura's first blush and highlighter combination in one compact. Apply the softly shimmering Como Blush directly to your face by sweeping it from the height of your ears to the apples of your cheeks. Then apply the Portofino Highlighter across the top of your cheekbones and under your eyebrows for instant illumination. Laura's Baked Eye Shadow Duo in Rome/Milan is a new shadow duo influenced by the warmth of the Tuscan sun. With the Eye Shadow Brush, stroke the golden beige Rome over your entire lid. For a more sculpted eye, stroke the deep aubergine Milan along your crease bone. Riviera is a new baked Marble Lipstick created in Italy. This swirl of light and dark pigments creates a vibrant depth of color on the lips, while its unique formulation provides deep moisturizing benefits. Apply directly from the tube or with a lip brush.Full-figured Lashes Volumizing Mascara is a water-resistant, opthalmologist-tested mascara that blends short and long nylon fibers for full, voluptuous results. Place brush at base of lashes and gently brush up. From Laura Geller.

Includes:
0.32 oz Balance-N-Brighten Baked Foundation in Fair or Regular--full size

0.32 oz Blush-N-Brighten/Highlighter in Como/Portofino (shimmery pink-peach/champagne)- full size, worldwide launch, and exclusive to QVC until September 28, 2009

0.06 oz Baked Eye Shadow Duo in Rome/Milan (golden beige/deep aubergine)--full size, exclusive to QVC until September 28, 2009

0.12 oz Marble Lipstick in Riviera (peachy brown)--worldwide launch and exclusive to QVC until September 28, 2009

0.264 oz Full-figured Lashes Volumizing Mascara (black)--worldwide launch and exclusive to QVC until March 28, 2010

Retractable Brush--full size

Double-ended Eye Shadow and Cheek Brush--full size

Brushes made in China; Products made in Italy

Below I have pictures of the collection.

First, the Como/Portofino blush and highlighter combo. What a beautiful color, and it couldn't be more appropriate for spring - it reminds of pale pink icing! The pink, mauve and golden shimmer swirl together to create an absolutely beautiful flush on the cheeks. top with the Portofino highlight on your cheek bones for a gorgeous shimmer.


The eyeshadow duo, Rome/Milan is a combination of a beautiful cream and deep golden copper swirled together - this can either be a highlight, or grab a little more gold and use it as a deeper contouring color. The other side, a swirl of gorgeous periwinkle blue, shimmery gold and deep purple creates a gorgeous natural plum/mauve on the lid.
The first of it's kind, this swirl lipstick, Riviera, combines natural moisturizers so that when applied it creates a natural color full of shine. Keeps lips smooth and healthy all day long, without caking on the color. When applied, this color is a very natural
Terra
cotta
color.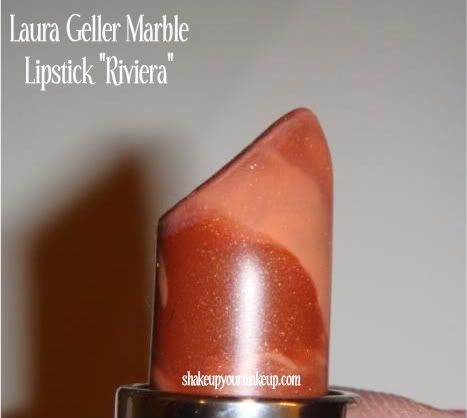 Laura Geller's Baked Balance and Brighten is a great foundation for the natural look. Unfortunately, the original color was a bit to deep for me, so I was excited to see that this collection allowed for the choice in the NEW fair, which has less of the color correcting yellow undertones, and more of the natural
beige's
that I needed in my foundation. Use the retractable brush to apply - if the brush is pulled mostly in, the bristles are compact and allow for a more full coverage (under eyes, over blemishes, etc) and if the bristles are mostly out, this allows for a more natural veil to be applied over the face.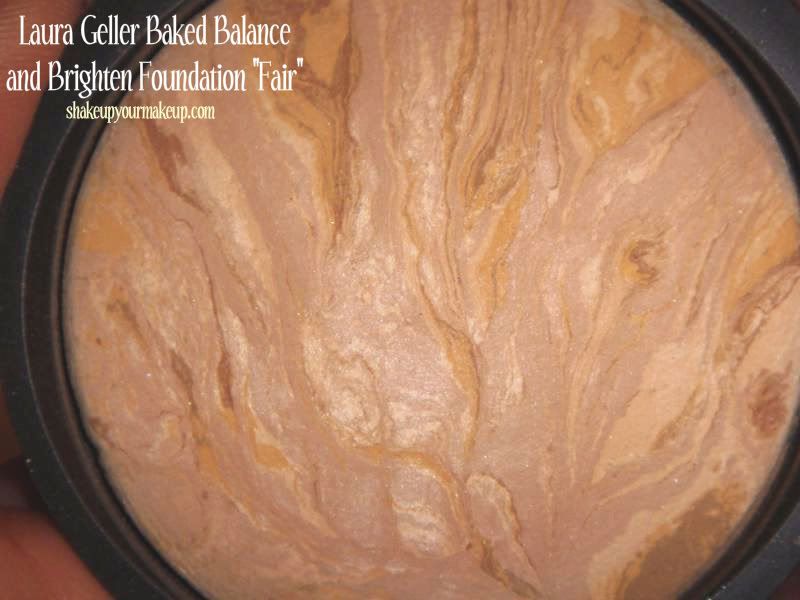 A new launch for Laura Geller, her Full Figured Lashes mascara combines short fibers for volume and longer fibers for length. A great mascara and brush, this gives thick, but natural, looking lashes from the start.