After I saw my mom's MAC Tempting, I decided I needed to run over to the department store and get my own. I had a meeting by the mall on Friday, so on my way home I made a pit-stop to pick up the MAC Tempting from Style Warriors, and managed to find a couple others that I "needed" as well. I also picked up Retro-Speck and Buckwheat, which is from the Naked Honey collection.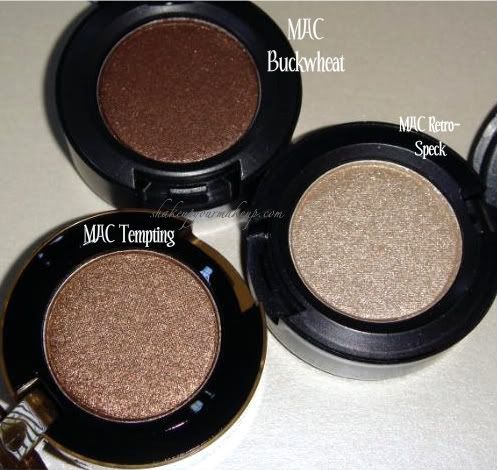 Retro-Speck is a gorgeous, golden ivory with tons of shimmer. This is such a great color as a base and high light, and I've been wanting this color ever since I discovered MAC, but for some reason my local store was always out! Lucky for me, I must have come when they restocked, because they finally had the color, so I picked it up. I can already tell this is going to be one of the colors I wear every day, it's that gorgeous!



Next up is MAC Buckwheat, which is from the Naked Honey collection that recently came out. I had not seen this collection, nor had I heard a lot of buzz about this one online, so I didn't really have any desire to look at it until I saw it in person. The color Buckwheat is a deep chocolate brown that has shimmer and a hint of wine to it. A great crease color, I think this would also make a gorgeous smokey eye and even a liner if used wet. I am thrilled I picked this up!


I know I showed you all Tempting (from Style Warriors) in the last post, but I figured it would be nice to see it next to the other two colors for comparison purposes. Again, this is a deep taupe with
bronze
-golden undertones.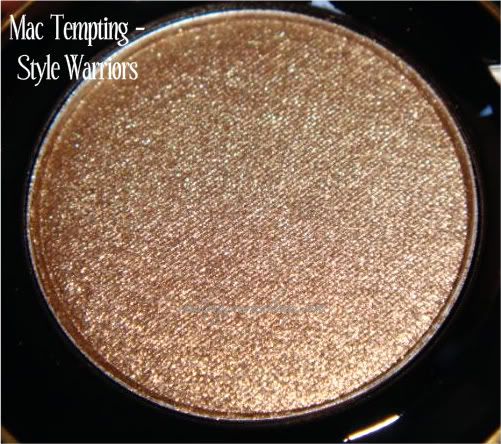 Below are the swatches. I would have never put Tempting as such a golden color until I lined it up next to Buckwheat, which really turned into a deep chocolate color. Such great shades, I'll have to do something with all three and post for you gals!