MAC CCO Haul: Mink & Sable, Idol Eyes, Blonde Skinfinish
8:00 AM
Last weekend I had to drive about 3 hours north for my work's annual industry trade show, which was in Michigan City, IN. Although I had to spend the weekend up there, the only thing redeeming about the entire weekend was the fact that I was about 30 seconds from the Lighthouse Place Premium Outlets, which is jam-packed full of great stores, including a Cosmetics Company Outlet. I knew that regardless of what my weekend had planned, it was necessary that I stopped over to at least peek in and see what they had, and I'm glad I did!

After getting lost while walking through the outlets (I did stumble across a Bare Escentuals Outlet, but that's another post!), I finally came to the CCO. They had quite a lot of things to chose from, but I did see two products I had been looking for: MAC's "Blonde" Mineralize Skinfinish from the Blonde, Brunette, Redhead collection, and MAC's Mink and Sabel from the Starflash collection. I also picked up MAC's Idol Eyes as an added bonus!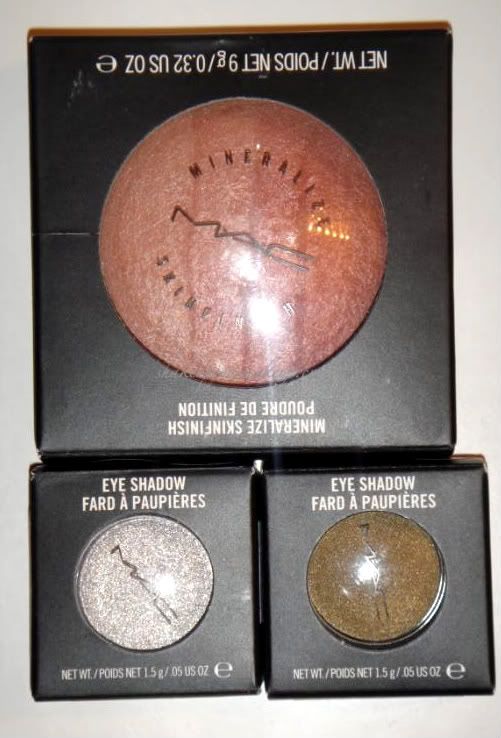 Idol Eyes is a really pretty color. I don't have much in silver, so I was excited to pick this up. The thing is, this shadow isn't exactly silver...it's more of a silver-meets-lavender-meets-gold-meets-taupe. It really takes on the characteristic of whatever else you pair with it, so it is quite intriguing!


Mink and Sable is one of the "must haves" in my eyes. I love greens and olives, but this one takes on a lot more. It has the ability to pull browns and golds out, as well. This was re-introduced during the Starflash Collection earlier this year, and I just didn't get around to buying it. Every time I saw someone post this in a FOTD, I would kick myself for not getting it. This is a deep olive green with golden shimmer. It's not over-the-top sparkly, but it definitely has some frost to it.


The
Blonde
Skinifinish
from the
Blonde
, Brunette and Redhead collection is probably going to be my everyday blush during the winter. My skin is so pale, and it is so hard for me to find a blush that I can wear, that doesn't make me look like a clown. This one definitely hits the mark! Not only are there four shades to chose from, but blended together it's a gorgeous warm-pale pink.
Take a look below at the swatches. I think you get a pretty good idea as to the complexity of the Idol Eyes eyeshadow - from top to bottom you can see it change from a typical silver-gray to a more lavender shade. Also, I
swatched
the individual stripes in the
Mineralize
Skinfish
"
Blonde
", as well as blended the four together for all
possibilities
. Really, not a bad trip up north, if I say so myself! :)