Avon Holiday 2009 - Nailwear Pro "Golden Twilight"
8:00 AM
Are you ready to go glam this holiday season?  Avon has glitzed up their Nailwear Pro collection (as well as their Ultra Riche lipstick, but that's another post) with shimmering shades infused with golden sparkle.   Below are the four colors, from top to bottom:  Golden Rose, Golden Wine, Nude Gold and Golden Twilight.
I received my recent Avon order earlier this week, and in it I was excited to receive one of the newest colors in their
Nailwear
Pro collection, called Golden Twilight.  This shade is a deep espresso brown with tons of golden sparkle.  The picture below doesn't quite capture how dark this shade is because the glitter reflects back so much light!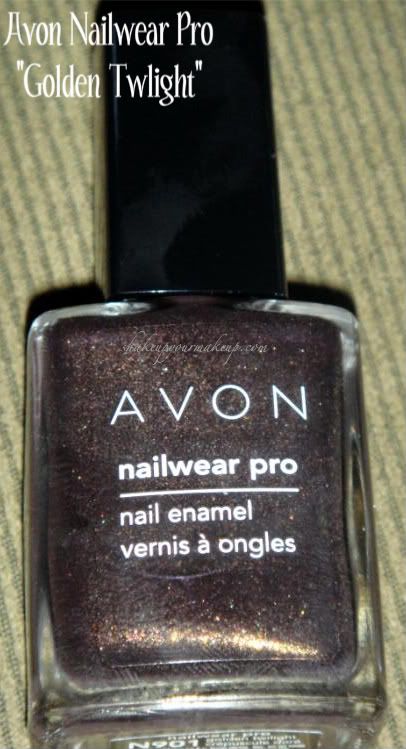 Golden Twilight applies evenly and smoothly.  Below I used two coats followed by a protective top coat.  I think you get a better idea of the deep espresso color once it is applied and dries.  I was a little disappointed with the final texture of the nail polish.  Although I put a high-gloss top coat on, it doesn't look like it.  For some reason it isn't quite "smooth as glass" once tried, although I don't feel any grit from the glitter to the touch.  I think if I applied another coat of the top coat, it would smooth the texture out.
I took two pictures below - the first is in natural light and the second is with the flash, so you can really see the glitter.