mark. by Avon i-mark Eyeshadows and Good Glowing Blush (South Beach, Nomadic, Fairy Dust and Hush Baby)
8:00 AM
You know, there's nothing like a good sale, and Avon always manages to put up some good deals close to the holidays. When I placed my last order, I thought I'd pick up a few more eyeshadows, as they were 50% off - you can't beat $2.25 for an eyeshadow!

I love the i-mark quality. I'll be honest, I'm not one for Avon's eyeshadows, but the mark. shadows are really quite nice. They have excellent pigmentation, are not over-the-top on shimmer, and the staying power is excellent. This time around I purchased South Beach, Nomadic and Fairy Dust. I tend to buy a lot of deep, dark crease colors, so I took this as an opportunity to add to my much needed base and highlight shades.



South Beach is the perfect name for this shadow. Not only does turquoise remind me of summer, which instantly makes me think of turquoise, bright greens and pink, but this shadow looks like the color of a beautiful clear ocean. It is a beautiful pale turquoise with hints of golden and pink shimmer. It literally looks like the sun sparkling off of the ocean.


Fairy Dust
is a very neutral, pale pink shade. This is also a shimmer, but for the "dust", there are hints of silver sparkle that is ever so subtle. I think this might be a bit dark for a highlight shade on me, especially in the winter, but it is a beautiful color none-the-less. I might even use this as a highlight for over blush.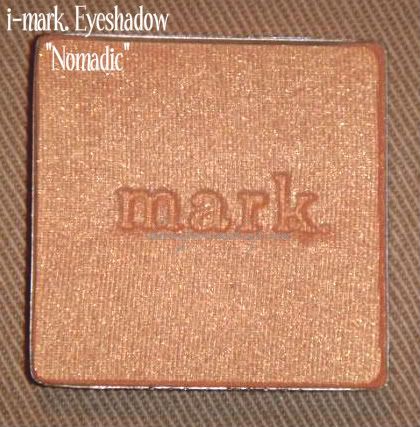 Nomadic
is a very interesting shade. Is it ivory? Is it peach? Is it gold? Well, not really, but it's a little bit of everything! At first glance, the shadow is a bit darker in the pan than it actually is on. It reminds me of the shimmer in the
Nars
Orgasm blush that everyone loves - kind of a peach gold shimmer. This would be beautiful in the summer with
bronzer
and some peachy-pink
lipgloss
. Clearly, I need a tan! :)
Last, but not least, is the beautiful Good Glowing Blush in
Hush Baby
. This is one of mark.'s mosaic blushes, which remind me of a much more affordable version of
Clinique's

Shimmering Tones
, which I have only seen at the Cosmetic Company Outlets, and even at that, they are not cheap. Pop one of these mark. Good Glowing mosaic's in a mini-case, and you have your own Shimmering Tone! Hush Baby is a beautiful mix of pink, mauve and peach. When blended together, on me it came out to be ore peach with pink shimmer. The squares on these are big enough, though, that you could dip your brush in and grab just the color(s) you are looking for and create several different shades of blush.