Fyrinnae Halloween 2009 Haul and Swatches!
8:00 AM
I received my order from
Fyrinnae
the other day, which was a majority of the Halloween 2009 collection. I was so anxious to get these, because I could tell from the pictures on
Fyrinnae's
website that they were going to be unique colors, even more so than normal, and perfect for the upcoming fall and winter seasons. My entire order is below, including two samples (up top) that I got in this order as well.
Samhain

Spirits
is a very unique color. In the pot it looks more gold than it actually plays out on the skin (for me at least). Once applied, it has more of a mauve or light wine color with hints of gold and nude shimmer running through.
Nevermore
is a nearly-matte purple...and when I say purple, I mean candy-store-bubble-gum-drop-purple. It's almost electric, and to be honest, the camera couldn't quite capture the color in the pot. There is the slightest hint of shimmer, which almost disappears when applied. This is a really cool color, and I'm not one for mattes.
Druid Werewolf
is a very deep peachy-nude shimmer with pale copper shimmer. Depending on your
skin tone
it is going to be either light or dark on you. For me, this is dark. Probably not dark enough for a crease shade, but definitely darker than a highlight. I really like this color! Although it is shimmery, it isn't glittery or chunky. This is definitely a color that can add a little *
umph
* to
any one's
"everyday" or "natural" look without going over the top.
Dressed to Kill
is definitely my favorite shade in the bunch. I a pushover for greens, and mostly olive greens, so this was right up my alley. Think
MAC's
"Golden Olive" pigment on steroids. This starts as a beautiful golden olive shade, but has green, gold, and even hints of turquoise shimmer running through it. This is such a complex shade, and is stunning. Perfect as an eyeshadow or as liner!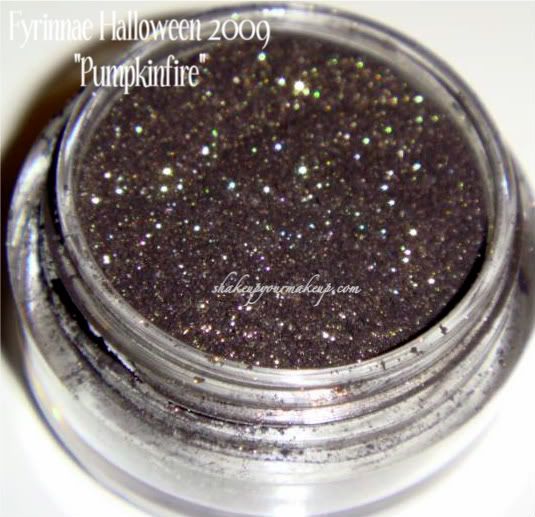 Pumpkinfire
is a matte black with copper sparkles. A great color to create a warmer toned smokey eye, this also makes an amazing eyeliner, adding just a that kick with the sparkles to make it so much different than your typical black.
Avenging Salem
 is a matte black with very deep wine/plum colored glitter.  This one appears to have more shimmer than
Pumpkinfire
(above), but they are about the same in my opinion.  This one does make a great liner, too, and works with more of your blues and purples.  Another gorgeous color I look forward to trying out!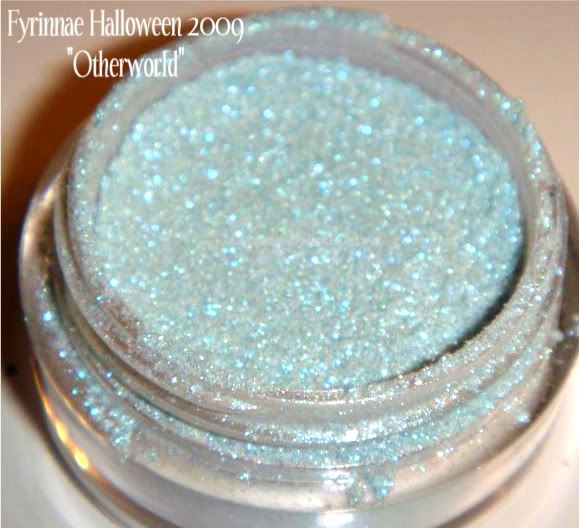 Otherworld
 is a very different shade, and I am so glad I decided to order this.  It isn't turquoise, it isn't quite.  I
truly
is a ghostly color, a pale ice white with shimmer that makes it a very pale turquoise shade.  The shimmer in this has hints of golden, green, and silver.  It is so
shimmery
that it actually "blinds" the camera with it's sparkles (see the swatches below).  I can't wait to try this one out either!
Sleepy Hollow
 is a such a great turquoise color.  It is a very deep turquoise, with tons of golden shimmer.  This is another complex one.  The glitter running through is iridescent, but dark enough that it doesn't wash out the blue in this one. This will definitely be fun to play with.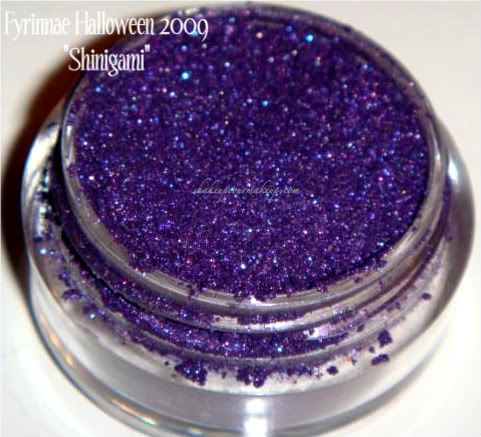 Shinigami
 is a true deep royal purple.  Although it's not quite as bright as Nevermore, this has the shimmer and glitter to make up for it.  This will make a gorgeous liner, but a gorgeous eyeshadow as well.  The shimmer in this is turquoise and purple.  
Medievil

Haunting
 is a very close second to my favorite eyeshadow in the bunch.  The best way to describe this would be as crushed pyrite or Fools Gold.  It truly is the most beautiful, cool, gold with so much frost, it looks like molten pyrite when applied, particularly over the epoxy.  There is golden shimmer, but bursts of silver glitter throughout as well.  This one is a stunner for sure!
All the swatches of these are below.  I put a layer of Pixie Epoxy on the top portion, and nothing on the bottom.  I used one of my Jane cosmetics brushes (medium density) to brush the shadows down from the epoxy to none, to give you an idea of how they look either way.  Also, this is with the flash to try and give you a better idea of the shimmer for these.