e.l.f. Shimmer Eyeliner Pencils
8:40 AM
Part III of my e.l.f. haul...I ordered all of the
Shimmer Eyeliner Pencils.
There are 9 different colors, in the order below: Iconic Ivory, Gunmetal, Black Bandit, Blissful Blush, Boldly Bronze, Precious Pink, Plum Passion, Twinkle Teal, and Grassy Green.
Instantly brighten eyes with e.l.f.'s shimmering metallic liners that put the spotlight on eyes. The smooth formulation glides on effortlessly without tugging at the delicate eye area. Choose from an assortment of 9 delicious and essential shades designed to add depth, definition and a special sparkle to create a very glamorous look! Pencil includes a convenient sharpener cap for easy use!
So, what are my thoughts? First of all, I am impressed with the color selection. Of course, you would expect the typical black, gold and teal/turquoise, but I was surprised at the Blissful Blush (champagne), Iconic Ivory, and Precious Pink. Those colors, on the other hand, are not typically found in your every day pencil eyeliner selection. The texture on these are very creamy, which helps prevent tugging when you use along your lashline. The pigmentation is really nice, even the lighter colors (ivory, champagne an pink) show up on my fair skin-tone - I think you can really see that in the swatches below. Between the pigmentation and creaminess of the liners, these could definitely be smudged and used underneath another shadow to enhance the staying power of both the liner and your shadow of choice. I will say, I was a bit concerned as to how well these would last without smearing or running down my eye since they are so creamy, but I was pleasantly surprised. They actually stayed quite nicely. I don't have extremely oily lids, but I do find that most pencils don't say put - for $1, these did really well.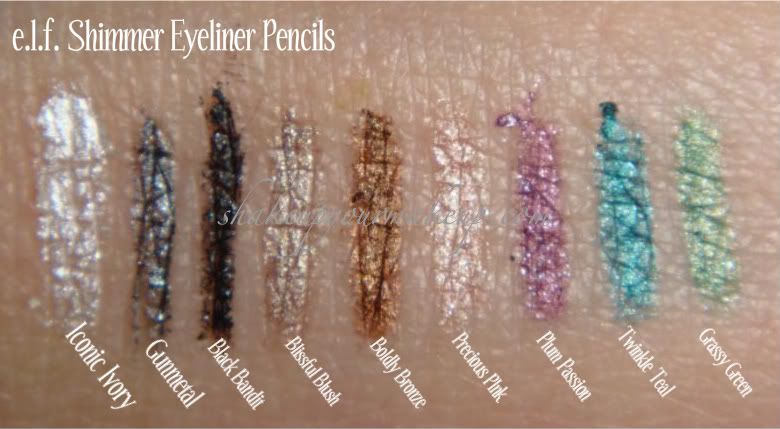 Now, these are called "Shimmer Eyeliner Pencils" so they definitely sparkle. I wouldn't say there are chunks of glitter in these, but instead dense pieces of shimmer (this can be seen pretty well in the Plum Passion swatch above). I did not experience any fall out or flaking from these, but they are there, so keep that in mind if you are not into sparkle or frosty pencils.
The cap includes a built in pencil sharpener. I'm a bit undecided on this. I have accidentally nicked a couple of the pencils unintentionally when putting the cap on because of the sharpener, so I'm a bit disappointed in that aspect of the design, but honestly, if the pencils weren't so creamy, it probably wouldn't have happened in the first place, so I guess it's a matter of perspective! I haven't actually used the sharpener yet, but I have read mixed reviews online regarding that part of the packaging.
All in all, these have received 4.5 stars out of 5 on e.l.f.'s website, and after using them, I can definitely see why. The price is amazing ($1 is 5 stars in my book!) and the pigmentation and color selection is great as well. So, do you need these? If you are looking for an inexpensive pencil with some great colors, then, yes you do! I mean, honestly, why not throw a couple on your order if you are going to be placing an order for the cream eyeliners I mentioned yesterday, or the All Over Sticks from Monday.
How many of you have tried these? Thoughts? What is your favorite color?