I finally found the Wet 'n Wild Dual Ended eyeliners I posted about about a week or so ago
here
...
Talk about gorgeous! I picked up two colors - Da Bomb! (purple) and Rock On! (Turquoise). One end is a pencil eyeliner, and the other end is a liquid glitter eyeliner in a matching/coordinating shade.
Here is a closeup of the liquid glitter end. These are very complex - see all the different colors? The glitter is a fine, micro-glitter...not chunky at all! Da Bomb! is a mixture of periwinkle, lavender, royal purple and iridescent micro glitter. Rock On! is a mixture of blue, turquoise, and green micro-glitter. The applicator is a fine brush, not felt tip, which I love. It glides on smoothly, and gives enough glitter that it could be used on its own, but is also translucent enough to be worn over the pencil eyeliner (see the swatches below - you will see all the different ways to wear it).
The pencil side of the liners are great as well! Just as the new Color Icon liners I
reviewed the other day
, these are creamy, smooth, and long wearing. Both are pearlescent and match absolutely perfectly with the glitter liner side of the set. Although I love them alone, I really am loving how beautifully the two coordinate with each other in the swatches below, where I layered the glitter on top of the pencil.
Below are the swatches - both in natural light and with a flash. I think the natural light gives you a good idea as to the shimmer and colors of the pencils and glitter. These really are beautiful! I think I need the other shades as well - there is a iridescent pearl and a black set as well...hmmm...maybe another stop at CVS?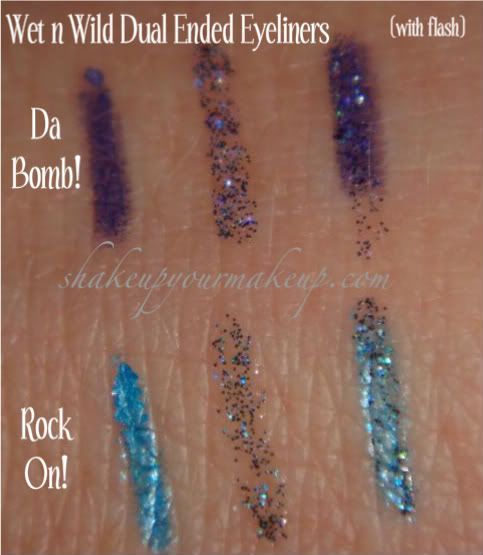 Have you found these yet? What are your thoughts??