It was a Barbie Birthday! Birthday Haul Part 1 **Pic Heavy**
8:00 AM
I grew up absolutely loving Barbie and her entire entourage. I had the dream house, huge Rubbermaid totes full of dolls, clothes and accessories, and anything else that went along with her. It's no wonder I love makeup. Barbie always had the most up-to-date eyeshadow application and hair-do's. She was a fashionista before her time!

It's not wonder that Stila paired up again with Barbie to create the Barbie Loves Stila collection. I was lucky enough to get the "All Doll'd Up" eyeshadow palette from my grandmother for my birthday. This palette consists of 4 pans of eyeshadows, each of which has 3 shades that coordinate together, totalling 12 fantastic colors in one convenient package. The outside has a holographic Barbie who winks at you - so cute!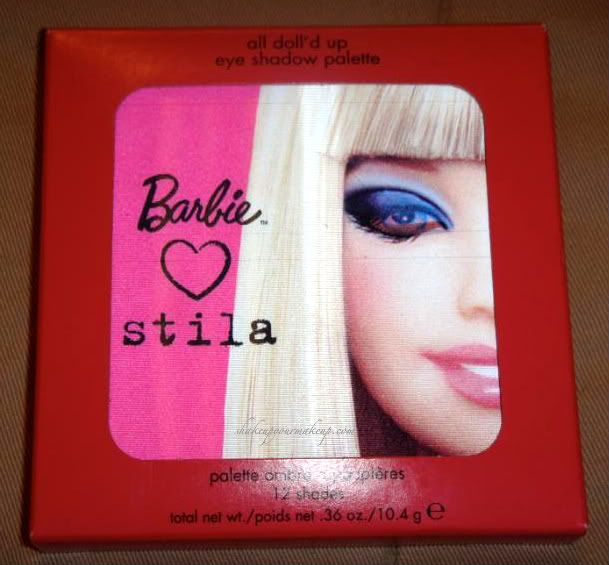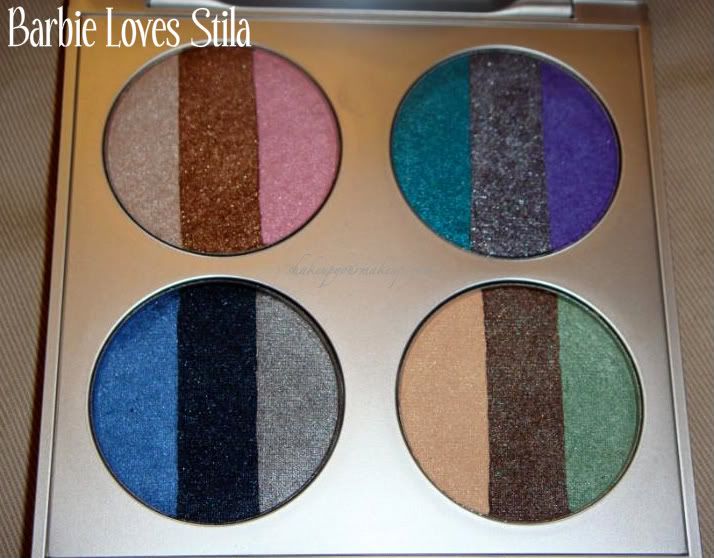 I don't wear a lot of pinks, but this set of colors might be my favorite (followed by a close second with the greens). The far left shade is a
pinkier
version of Kitten, followed in the middle by a bright penny-copper color, and then a true Barbie pink on the far right.
This trio of shadows was difficult to capture on camera - particularly the turquoise and purple shade. The turquoise is a deep, very complex shade of turquoise. It has shades of green, navy and even a hint of golden shimmer. The middle is a true graphite color with tons of shimmer. The far right is a very deep, but neon, purple. I can't really describe this shade, but I think if you pulled out a Barbie doll from the '80's, she was
rockin
' this shade!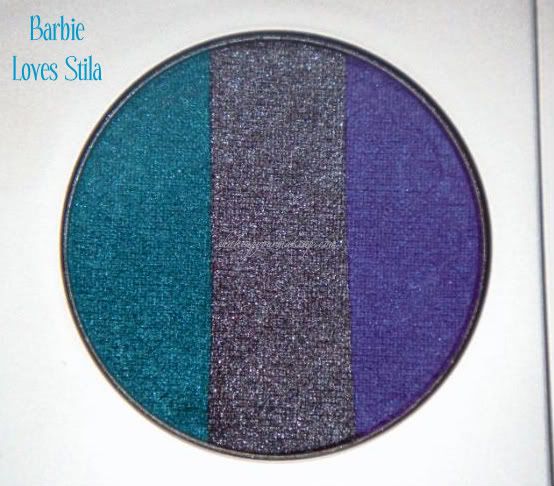 If you like blues, you will love this trio. The far right is a true, cobalt blue. The shimmer-factor isn't overwhelming, and it would make a great liner color as well. The middle is as dark a navy blue as I've seen - at first I thought it was black with a blue shimmer, but once
swatched
, it really is navy. The far right is a dark silver.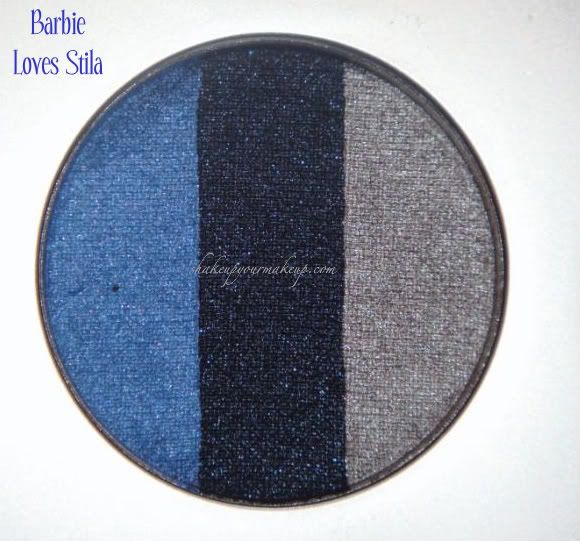 This last pan is my close-second favorite color set. I love greens, so by default I liked these. The outer color is a very pale mustard yellow with minimal golden shimmer. The middle is such a neat color - it's a deep chocolate brown with
duochrome
effect, ranging into the greens and golds. The outer color is a beautiful pale-evergreen color.
I was very impressed with these colors. The pigmentation is excellent, and the
consistency
is that of the much-coveted Kitten eyeshadow. Not one is brittle. All blend effortlessly together. They can be applied wet, as a liner, or dry. There is no fall out when used, and the range of colors and mix-and-match opportunities are endless! This is very much a bargain at the $28 price tag.
I also received the Barbie Loves
Stila
"Little Black Dress"
Smudgepot
, which I'll have up shortly, too!