Bare Escentuals "Black Diamonds" Kit
8:01 AM
I love birthdays, and I definitely loaded up this year! My mom gave me the last set in the Bare Escentuals Diamonds collection, which is Black Diamonds. The colors in this set are leaning more to the true-smokey eye look, with charcoal, black and taupe for the eye colors, and very neutral colors for the cheeks and lips.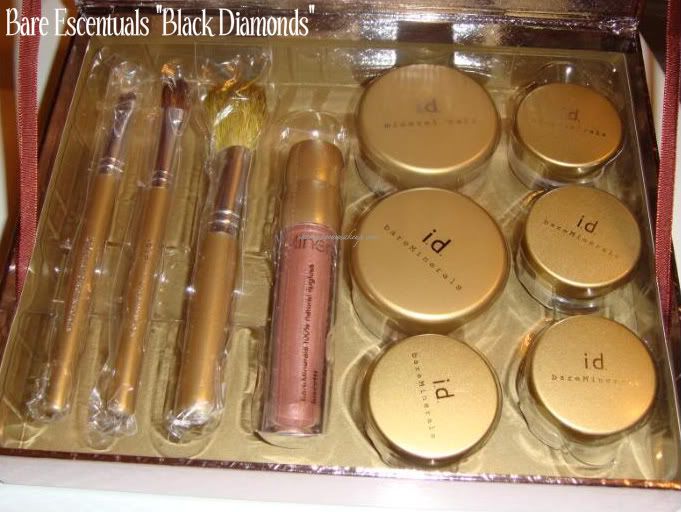 The Black Diamonds set also comes with three brushes. As I've mentioned in the past, I love the BE brushes. The quality is great, and when you get them in a collection such as this, they are practically "free"! The three brushes in this set were the Soft Focus Liner Brush, the Tapered Blush Brush and the Contour Shadow Brush.
I was in need of a new liner brush, and I love the softness of this one. As opposed to needing a stiff bristle to pick up gel eyeliner, this allows you to use your
eyeshadows
dry and create a beautiful, soft line along the upper or lower lash line. This is a great way to blend the liner into the deep and dark colors in a smokey-eye without the work of having to smudge gel eyeliners.
The Tapered Blush Brush is a great brush to add a
luminizer
or high light along your cheeks and face. It's very soft, not very dense, and picks up just enough to give a healthy glow, without having to worry about using a heavy hand.
Everyone should have a Contour Shadow Brush of some make or model. The Bare
Escentuals
brush is extremely soft and allows you to build your color to the desired depth without much effort.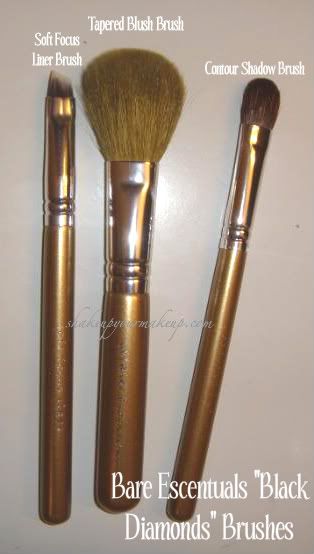 The Radiance in this kit is "Bare Radiance", which is not exclusive to this set. A very basic color, this is a beautiful flesh-tone with pink/peach shimmer.
Decadent Diamond Blush is a pale, but bright coral with a hint of shimmer. I love this color with the
eyeshadows
below because it isn't overwhelming, and doesn't make your face look made up or over-the-top. Instead, it adds just the right warmth to the cheeks. If you are looking for an added *
umph
* to the color, sweep the Bare Radiance over the top and your set!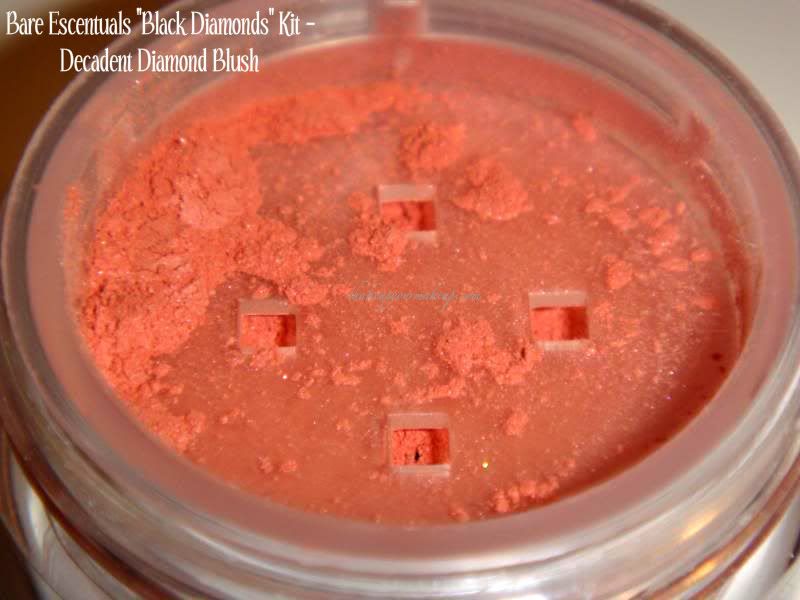 The darkest shade in this collection is called Midnight Diamond. It is about as dark charcoal can get without being black, and has a hint of graphite shimmer in it. Although this is meant to be a liner, it works very well as a crease color, our contour to create the smokey look. It's not a true matte, but the because it isn't overly sparkly, it works very well with blending into other shades.
Chic Diamond is described as a lilac color, but I think a better description is a very beautiful, warm taupe with gold and lilac shimmer. This is the frostiest color in the set, and depending on your
skin tone
, I think this could be used as a lid color or a crease color. I think this might be a lighter shade of Bare
Escentuals
Drama - I'll have to do a comparison!
The
lightest
shade, Heavenly Diamond, is a pale iced-ivory. This reminds me very much of
MAC's
Vanilla Pigment, and has the same family of color weaving through it, without the rich pigmentation of the MAC shade.
I absolutely adore the new Natural Lip Glosses that Bare
Escentuals
have come out with, and this is no exception. The color in the Black Diamonds set is called
Biscotti
. To me, it matches my
lip tone
perfectly with a bit more pigmentation. It is a very pretty peachy pink with pink and gold shimmer running through. It's pigmented and lasts very well, and again, works effortlessly with the darker
eyeshadows
of this collection.