Quick EOTD with Fyrinnae's PIxie Epoxy
8:00 AM
Fyrinnae's

Pixie Epoxy
is my favorite new addition to my makeup arsenal.  It's amazing that a $5 product can make applied eyeshadow look it does in the pot!  Just to give you an idea as to how beautifully 'foiled' eyeshadow can look without having to make it wet, I did a quick look below using
Fyrinnae's
Polar Bear, Sake &
Sashimi
and Liquor is Quicker.
To create this look, it was so simple.  First, apply
Fyrinnae's
Pixie Epoxy to the eye, in a thin coat and allow to dry a few minutes to become tacky.  Once it has started to dry and is a little *sticky* to the touch, apply your eyeshadow as normal with a brush.  Here, I applied Polar Bear on the inner corner, and blended it into Sake &
Sashimi
on the outer corner and up into the crease.  To finish off the look, I applied Liquor is Quicker to the highlight.   For the eyeliner, I applied Sake and
Sashimi
wet, and finished off with Lash Blast mascara in black.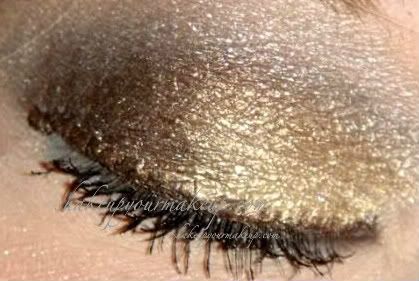 I will admit,  when I first applied the Epoxy and felt how tacky it was, I didn't think I would be able to apply the eyeshadow with a brush, or create the same blending lines that you do on dry skin...but it does!  Instead of tugging and pulling, all the Pixie Epoxy does is ensure your eyeshadow stays where you put it - your eyes!  There isn't fall out, the eyeshadow looks foiled, but it still blends beautifully together! 
Even more, you can apply this anywhere - think Halloween gals!  Glitter, glitter and more glitter!  If you want to make sure you can apply all these gorgeous colors and glitters we are seeing for your Halloween costume, this is the way to do it!  
Who else has tried this?  I'd love to hear your thoughts!