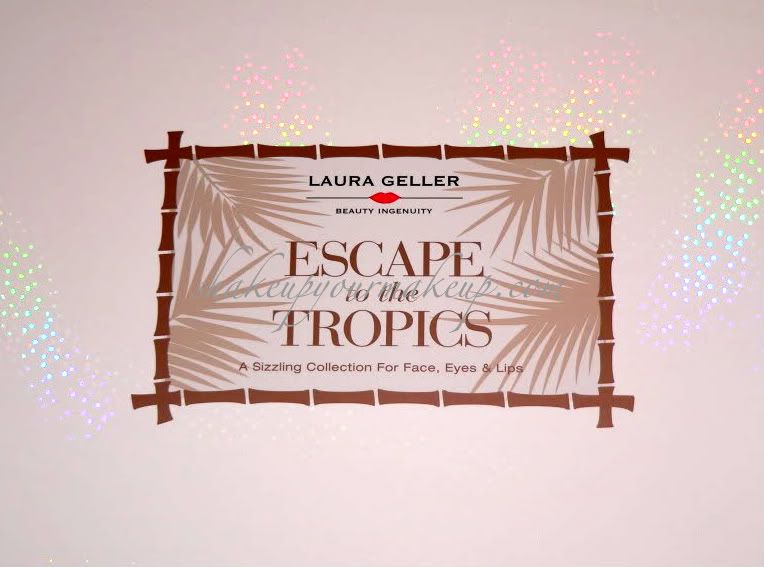 Are you ready for a vacation? I know I am! Between tons of snow, and then tons of rain, I could really use a little sunshine in my life right about now! Well, Laura Geller has come to the rescue. A few months back (I think in December), she had a TSV on
QVC
, called "Escape to the Tropics". This set contained all new colors (except for the foundation), all of which are absolutely gorgeous. The packaging is too!
The collection comes with a foundation Balance 'n Brighten (I picked Fair), a Blush 'n Brighten in Tropic Hues, a Dream Creams Lip Color pallet in Tropical Hues, a Baked Eye Dreams eyeshadow set in Sunset Horizon, I-care eyeliner in Purple Paradise, a retractable lip brush and a double ended eyeshadow brush.
Like I said earlier, the packaging is absolutely stunning on this. It's an embossed gold packaging that looks so elegant! I'm not sure the picture does it justice, but you get the gist of the packaging in the pictures below.
First up, Balance 'n Brighten in Fair. This was the lightest shade available until now - they just released a Porcelain, which I ordered in her most recent TSV: Vanilla Nudes, which should be arriving any day now. Fair has swirls fair, bronze and golden correcting pigments. This is a baked foundation, but once applied ends up some creamy on the skin. It isn't cakey in the least - my only complaint is this shade will only work for me in the summer, so I am keeping my fingers crossed for the new Porcelain shade.
The Blush 'n Brighten in Tropical Hues is G-O-R-G-E-O-U-S! I'm a bit biased towards her blushes, though. There isn't one I don't like - they all blend so beautifully together to create a beautiful flush on the cheeks. This particular shade swirls apricot, pink and gold (mine is mostly pink, but you can see the other shades in the first picture). Don't get scared, though - you won't look like a Barbie doll in this color - the golds and apricots blend together to create a perfect warm/pink on the skin. It reminds me of a pinkier version of Apricot Berry.
Let me just say, I know a lot of you out there love the MAC MSF blushes...well if you do, you NEED to try out Laura Geller's. These are even more beautiful, blend effortlessly, and come in two types (Sugared = shimmery and Sugar Free = matte). What's better than that? It's the best of both worlds!
The Baked Eye Dreams are a bit of a different presentation for Laura Geller. Typically she creates the baked shadows, reminiscent of the MAC MSF eyeshadows, but this time around she took a play out of her Dream Cream lip colors and created a similar eyeshadow pallet. This set contains four colors, all which coordinately beautifully together. To the far left is an ivory with hints of gold and peach. Next is a beautiful golden mauve, followed by a bright true gold shade, and last a deep plum/bronze to the right.
The texture on all of these is quite creamy. I find they are very well pigmented on their own, but I do like to use a primer with them, as I do with any of my eyeshadows.
The Dream Creams lip colors I expected the least out of, and turned out liking the most out of the entire set. Upon first impression, these looked like minimally pigmented glosses, but that couldn't be further from the truth. Not only are each very pigmented, and rich, but the staying power and moisturization was wonderful on each shade. The golden shimmer to the far left is beautiful on it's own, but manages to transform each color to the right when applied on top. If you purchase one item out of this set, I would have to suggest this pallet!
The Purple Paradise I-Care eyeliner is a beautiful rich plum shade. As with the other I-Care pencils, this is waterproof and can be worn on the waterline.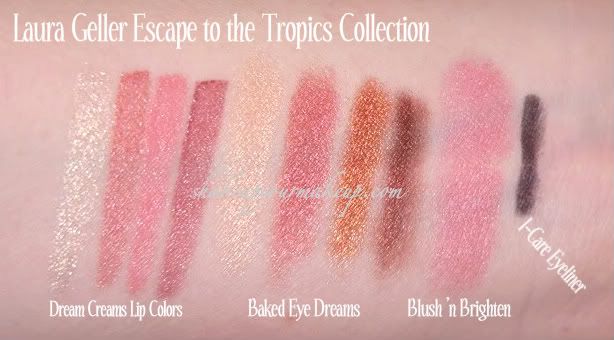 The swatches from the entire collection are above. I really love this set - it's warm but bright at the same time. Amazingly, I think these colors would look beautiful on anyone. As I mentioned above, I absolutely adore the Dream Creams lip colors - they are just gorgeous!
The price on QVC right now is $54.12 for the entire collection.
Did you pick up this set? What did you think?