Mally Beauty Just Heaven 8-piece Brightening Collection
7:08 AM
A few months back Mally had a TSV on QVC for her
Just Heaven 8-piece Brightening Collection
. Now, I'm a total sucker for her mascara, which
I've posted about here
. It is one of the blackest, richest, and most volumizing mascaras I've ever worked with. I have also wanted to try her primer, so with all the goodies in this set, I
had
to buy it!
The collection comes with the following, several of which are exclusives to QVC until next year:
0.07 oz Evercolor Endless Eyeshadow in Sunglow, a bronze-brown; includes 0.03 oz powder and 0.04 oz cream shadow--exclusive to QVC until 1/1/12!
0.12 oz High Shine Liquid Lipstick in Just Heaven, a sheer peach shade--exclusive to QVC until 1/1/12!
0.18 oz Effortless Airbrush Blush & Highlighter in Afterglow and Purelight, a peachy-pink blush with golden highlighter--exclusive to QVC until 1/1/12!
0.39 fl oz Volumizing Mascara in Black
0.35 oz Visible Skin Bronzer in Lighter or Deeper--exclusive to QVC until 1/1/12!
0.5 oz travel size Perfect Prep Primer in Glow
0.01 oz Automatic Liner in Black Navy
Double-ended shaping brush
Zippered makeup clutch: measures 7-1/4"L x 10"W x 2-3/8"D; 45% cotton/45% low-p PVC/10% polyester; wipe clean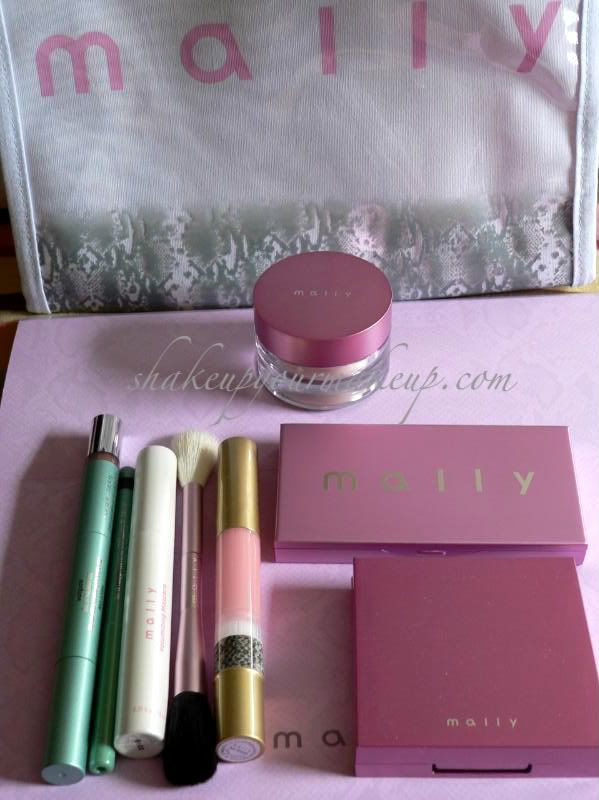 First up, is the primer. This is truly the consistency of whipped cream. It looked like it too! Almost good enough to eat. The size on this is a deluxe travel size, so it's not the full sized primer, but it is definitely enough to try it for a few months. This is also the Glow version of the primer, so there is just the slightest shimmer. For a "glowing" primer, this definitely has the least amount of shimmer on the skin once applied, compared to some other ones I've tried, so this may be the one for you if shimmer isn't your thing.
Again, the consistency is like air - it just blends into the skin and really makes makeup application a breeze. I found that it smoothed out the skin, and really helped the makeup last through the day. I don't really have oily skin, so I can't say much for prevention of that, but when it came to warm/humid days, I found that my makeup didn't travel or come off as a result of the weather.
Next up, the bronzer. This is a matte bronzer, and the light is very easy to wear on my fair skin. This isn't orange, and I actually find this shade quite useful for contouring since it's a paler bronzer. I'd liken it to
Stila's Sun Highlighter (Shade 2
), but without the shimmer.
Mally's Effortless Airbrush Blushes are next. These are an interesting twist on blush. The ultimate purpose is to give you that airbrushed look with your blush, without having to use the technique. The consistency of the blushes are interesting - they aren't powders and they aren't creams. Instead, they are a mix of both. You do use a brush to apply, so this isn't too complicated. It's just the consistency that's different. Because these are quite pigmented, a little gives you a natural glow. The blush, AfterGlow, is a warm peachy pink. The highlight, Purelight, is gorgeous pure pearl. I like to use this not only as a higlighter over the blush, but just all over the skin to give it a brightening effect.
The eyeshadow is a new concept, at least for me. This is a three piece set - including the cream eyeshadow, applicator, and powder eyeshadow with sponge applicator. It actually all connects together and looks like a pen/marker. Sunglow is a deep bronze. This is really shimmery, lasts ALL DAY, and has such versatility. If your looking for major impact, use both the cream shadow and set it with the powder. If you're looking for a little bit of color, just use the powder. The cream shadow can also be used as an eyeliner, if you dip an eyeliner brush into the pot (pictured below). Outside of the mascara, this is my favorite piece in the set.
None of my pictures of the set came out, so I had to borrow the picture from QVC (above). Below you can at least see the pot with the cream shadow in it. See all that shimmer? The sponge applicator has a spring to it, so you actually *punch* it into the lid and it gets the powder shadow on it, and you dab it across your cream shadow to set it.
Although none of my other swatches transferred over to the computer, at least you can see the shadows below.
Last up, the pencil. This is a "bullet proof" liner in Navy/Black. The concept of Navy is that it helps brighten the whites of your eyes, widening them and making you look more awake. This is something I tend to need A LOT! The liner is truly bullet proof, too, as Mally would say. It's creamy, applies easily to the lash line, as well as the waterline, and lasts!
Like I said earlier, my swatches didn't transfer over - user error I'm sure. I'll put a post together with a FOTD using these items, and put some new swatches together for that post, too.
This set also comes with a lipgloss (in the missing pictures), a double ended brush and a really nice sized makeup pouch. The brush is really nice - it's not as dense as a lot of other blush brushes, since it doesn't need to be to apply this blush. To me, it's nice to have another brush in my set that I can use with my more pigmented blushes. The makeup pouch is huge! Plus, it's lined so it is easily cleaned if something should spill in travel.
Have you tried any of Mally's products before? I have to say, I am really enjoying these. The items are multi-functional, from the blushes and highlighters to the eyeshadows