Hard Candy Haul - Mischief Nailpolish, Take Me Out Glitter Eye Liners "Money" & "Truffle", and 1000 Lashes Primer
1:55 PM
I finally found *some* of the new Hard Candy items at Walmart, although 99% of them were sold out, I grabbed a nail polish in Mischief, 1000 Lashes primer, and the two remaining Take Me Out Glitter liners that remained (Money and Truffle). I am going to have to look at another one to find a couple other products to pick up, but for now, I am going to dive into the liners.

I was sold on the liners because of the packaging - the *stems* of the liners are covered in glitter. I don't know about you, but when I am digging through my pencil eyeliners, I find it so difficult to find the particular pencil I am looking for. With the Hard Candy Take Me Out liners, not only are they extremely long, but the stems are the actual color of the pencils, so they stand out perfectly!
Money is a beautiful mossy green with silver green sparkles. Truffle is a gorgeous brown frost with brown and golden sparkles. Both pencils are extremely smooth and creamy. They apply very easily and are extremely simple to blend. I am hoping that this has decent staying power as well. We'll see since I'm going to test drive them this week...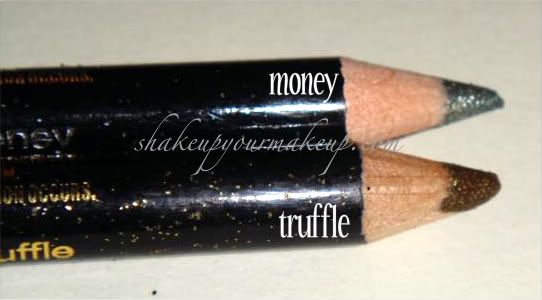 These are actually quite pigmented, but my flash washed everything out. Whoops! I tried taking better pictures, but it didn't help. Also, my swatches for the
Nox Twilight Nailpolishes
turned out to be trash, so I'm going to redo those and post them soon. Sorry for the delay peeps!