Wet 'n Wild Dual Ended Eyeliner: Chill Out!
8:00 AM
Since I loved the Wet 'n Wild Dual Ended Eyeliners in
Da Bomb! and Rock On!
I was happy to come across the deep evergreen shade called Chill Out! at CVS last week. I have a lot of olive eyeliners, but really not one true evergreen shade to speak of, so this was happily added to my collection at $3.99. The pencil is smooth and creamy just like the other two, and the glitter liner is iridescent/clear glitter.

Again, I swatched the pencil alone (left), glitter liner alone (middle) and the pencil with glitter on top (right). This would be really pretty for the holidays with all the glitters, reds and greens!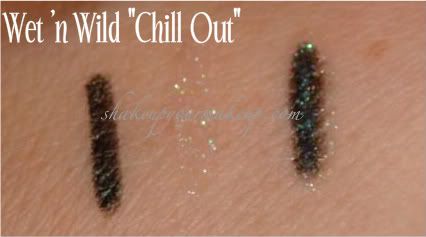 (with flash)
(natural light)
So...now that these have been out in the market - have any of you tried them? Thoughts?