Happy Birthday to me...MAC Venomous Villians "She Who Dares" **PIC HEAVY**
1:15 PM
Another day...another year! Yep, today is my birthday, which is unbelievable! This past year has flown by, and been quite amazing at the same time!
One of the first things I received was MAC's Venomous Villians "She Who Dares" eyeshadow, from Maleficent's collection. I haven't had the opportunity to see these in person until I opened my gift, so I was very excited because I was loving the online pictures of Maleficent's entire collection!
Aren't the sketches on the front awesome?
I always though Maleficent was really pretty, even though she was evil. She had this elegance about her...
Maleficent also graces the front of the compact. The colors in She Who Dares are deep dark black with swirls of sparkly, glistening navy on one side, and sparkly, iridescent green on the other. Because these are mineralize, I was looking forward to use the shadows wet as eyeliners, too.
I took tons of pictures below - I found that the flash washed the colors out, so I took the compact with the flash, in natural light, and without flash, just to give you an idea as to how beautifully sparkly the colors are.
(Flash)
(Natural Light)
(Natural Light)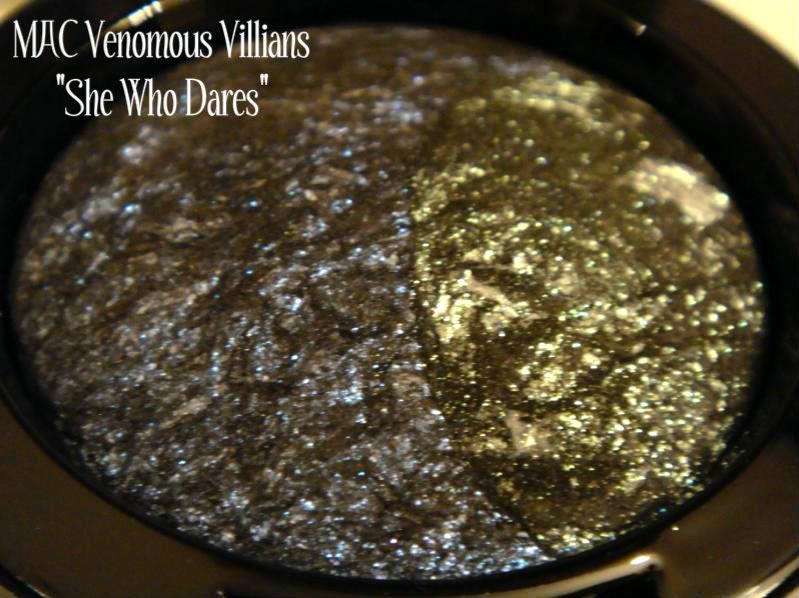 (no flash)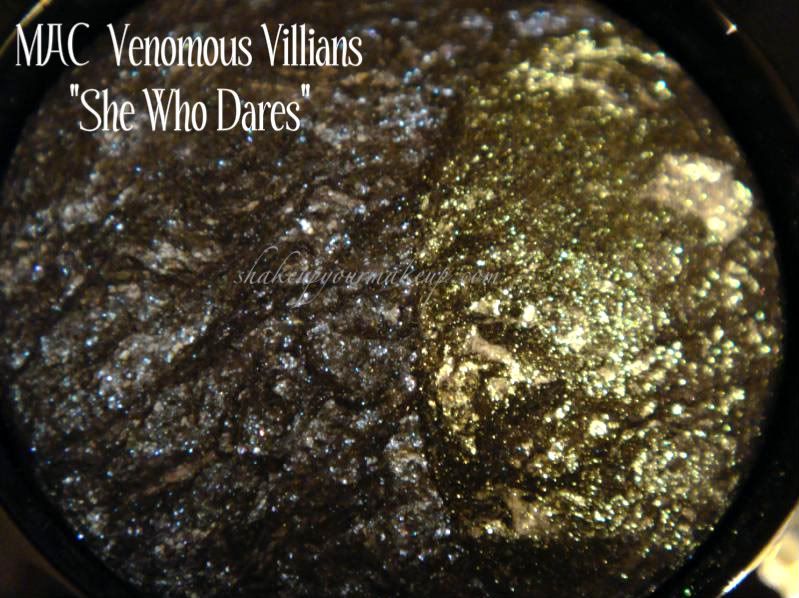 (no flash)
The first thing I thought when I got this shadow was how beautiful it would look over Fyrinnae's Pixie Epoxy, so of course, I immediately went home to play! And...I was right-the epoxy really brings out the beauty of these colors, especially the sparkles and depth. Below I swatched each side on it's own, and over Pixie Epoxy (bottom half).
(flash)
(natural light)
See how gorgeous these are! The pictures don't even capture all the color and sparkles. I just love it!
Below I played around with these together. The green I used as an eyeshadow, and the blue as an eyeliner...the whole look is broken out below.
Fyrinnae's Pixie Epoxy
Fyrinnae's Jade Ghost - inner corner
MAC She Who Dares (green) - outer corner/crease
MAC Pigment Vanilla - highlight
MAC She Who Dares (blue) - wet as eyeliner
Tarte's Light Camera Lashes Mascara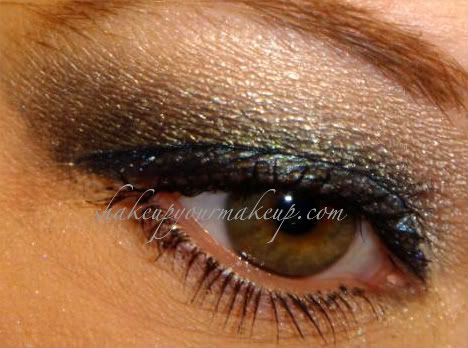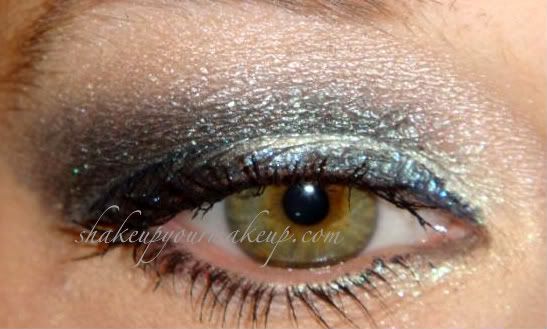 The picture below really reflects the shimmer of the blue as an eyeliner . I just used water, nothing special, to apply, and it lasted all day!
What is your favorite thing from the Venomous Villians collection?