Lancome Genifique - Youth Activating Concentrate
10:09 AM
I received a sample tube of the new Lancome Genifique Youth Activating Concentrate in my order from HauteLook.com last week. I had heard of this new product from Lancome, but based on the $78.00 retail, I didn't think I would be trying it in the near future!




As you can see below, the drop of concentrate on my skin looks very similar to water - which is truly the case! When I had read about this product, I figured it was a thicker serum, similar to some of the concentrates that Avon has on the market, but instead, this is a clear, very light, and liquid concentrate. One drop goes as far as to really soak into half of my face...so a little goes a long way.

The benefits of the product, from the Lancome website are as follows:


Today, for every woman, Lancôme creates our 1st Youth Activator - GÉNIFIQUE.
- See visibly younger skin in just 7 days.
- Drop by drop, skin is infused with life.
- Vibrant with youth, skin looks as if lit from within - breathtakingly radiant.
- Skin's youthful quality returns: cushiony soft and velvety to the touch.
- Skin's tone is astonishingly even; its texture dramatically refined.


I will admit, I've only been using this a week, but I have noticed a smoother texture and softer feel to the skin. It doesn't tighten the skin, as some serums/concentrates do, and instead seems to infuse the skin with moisture without being greasy. I'm anxious to see what long term use will do!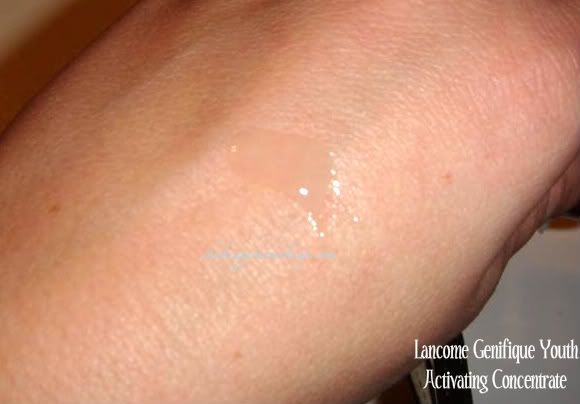 The product details from Lancome are below:
Lancome Genifique - Youth Activating Concentrate

Youth is in your genes. Reactivate it. Discover the skin you were born to have.
Lancôme invents our first skincare that boosts the activity of genes.
At the very origin of your skin's youth: your genes. Genes produce specific proteins. With age, their presence diminishes.

Today, for every woman, Lancôme creates our 1st Youth Activator - GÉNIFIQUE. Now, boost genes' activity and stimulate the production of youth proteins.
See visibly younger skin in just 7 days.


Activate skin's youthful look.
In-vitro test on genes.
Clinical study on skin proteins, associated with young skin - France.

Overall, if you have the opportunity to try this out, I would say from my week+ use, this has had some great benefits for my skin, including smoothing out the texture, adding softness and refining the overall look of the skin. The price tag can give some "shell shock", but a sampler is a great way to test out this product and see if you have the same type of results. Based on the reviews I have read online, people either love it or leave it, so maybe, with the holidays coming, there will be an opportunity to try this in their gift with purchase?