Who doesn't want to "Heal and Conceal"?
8:00 AM
Bare Escentuals has made it easy to do just that - heal your acne, and then conceal it! Pairing up with their highly-popular Rare Minerals line, Bare Escentuals has come out with their "Heal & Conceal" kit, which includes Rare Minerals Blemish Therapy treatment, the Bare Escentuals Multi-Tasking in "Bisque", two brushes, and a convenient carrying case.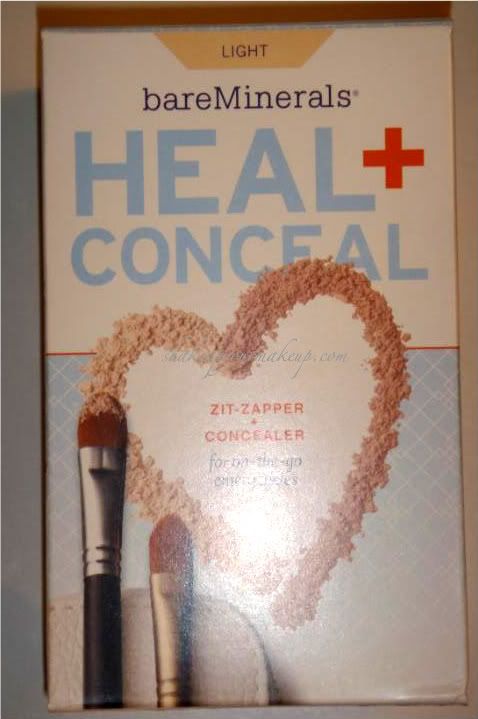 What is it?
(www.sephora.com)

bareMinerals® Heal + Conceal - Light
What it is: A mineral-based skincare kit that destroys and conceals blemishes on the spot.
What it does: The first and only natural, mineral-based skincare kit, the Heal & Conceal fix-it-quick remedy set contains two powerful, award-winning cure-alls for getting rid of pesky blemishes and troublesome acne. The potent, powder treatment and a weightless concealer come complete with two application brushes, so you can keep your skin in check wherever you are.

This set contains:- 0.035 oz RareMinerals Blemish Therapy- 0.04 oz bareMinerals Bisque SPF 20 Multi-Tasking Concealer- Heal & Conceal Brush- Mini Maximum Coverage Concealer Brush- Heal & Conceal Bag

What it is formulated WITHOUT:- Parabens (all)- Sulfates (all)- Synthetic Fragrances (all)- Synthetic Dyes (all)- Phthalates(all)- Petrochemicals (Bisque SPF 20)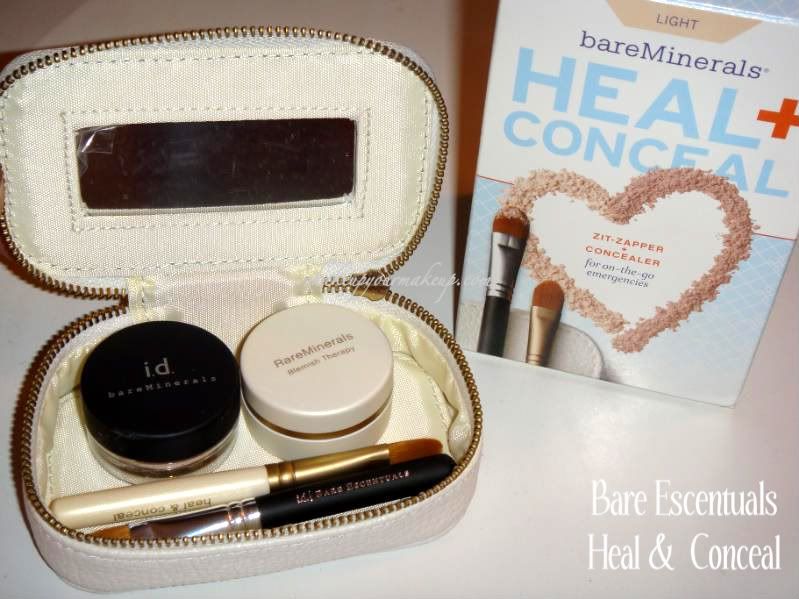 Even better? The kit only costs $25! The size of each of the products is that of a regular Bare Escentuals eyeshadow, which when applying to your typical breakout will last such a long time!

Below is a picture of the Rare Minerals Blemish treatment - as you can see, this looks like your typically multi-tasking or foundation color, but this is formulated with potent minerals to help fight against your blemishes and make them disappear!


This product comes in two colors - Light and Medium. I chose the light, because it is easier to blend into my pasty-white complexion. The medium comes with the "Summer Bisque" multi-tasking product.
I have used this several times and couldn't be happier with the results. I love that it comes with two brushes - one for the treatment and the other for the coverage. Not only does it help my breakouts face in a day or two, but it also gives me the ability to cover up the acne while it's there. I have found that because I use mineral foundation, a lot of the topical solutions and gels that are typically used to help fight against a breakout cause the my foundation to flake, cake, or not even adhere at all. Being that I am a Bare
Escentuals
girl, this fit into my
arsenal
perfectly, but will work great under any type of foundation - mineral or liquid.
I would definitely give this one a try for the $25...or, wait for the
Sephora
Friends and Family sale this fall - either way, I don't think you will be disappointed!