Hautelook.com Urban Decay Haul - Smog, Graffiti, Shattered, Roach and Lucky
11:07 AM
A while back, Hautelook.com had Urban Decay up for the day, which gave me the opportunity to buy some much desired liquid eyeliners and eyeshadows! I have been looking at the Roach eyeliner and Smog eyeshadow in the store for months, and now I know why I never bought it - a better deal was on the way!

I have never tried anything of Urban Decay's outside of their Primer Potion, which I live for. I have read numerous reviews on how great the texture, pigmentation and color selection is for their eyeshadows, and these reviews couldn't have been any more correct. Once I finally got my hands on these shadows, I can see what I've been missing!




Graffiti is a beautiful, bright green eyeshadow with frost. Not only is the package awesome, but the texture is smooth, the pigmentation is great and the staying power is strong as well.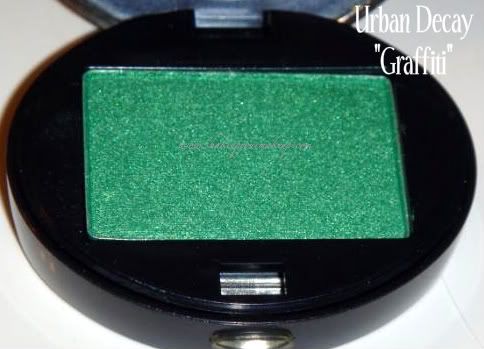 Smog is one of Urban Decay's most popular colors, and I can see why. This is a deep coffee brown with golden shimmer. Again, the pigmentation and texture is fantastic. This shadow blends effortlessly into your skin. It can be used as a crease color, liner, or for darker complexions, this would be a great lid color to create a smokey look.




The Urban Decay liquid eyeliners are definitely intense. One stroke and and you were able to line your entire eye. The colors I ordered were Shattered (a bright lime green), Roach (a deep brick/purple/brown with hint of glitter) and Lucky (a gorgeous copper).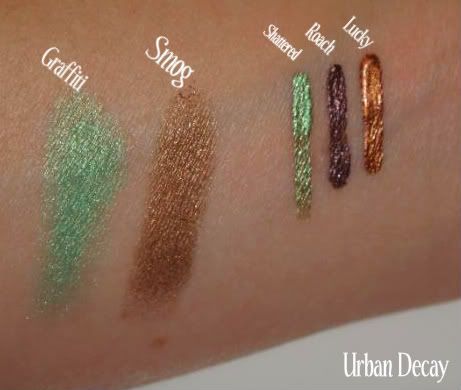 Urban Decay allows you to step outside of your comfort zone with colors, so if you are feeling a outgoing - definitely give them a try!