e.l.f. Cosmetics Haulage - Mineral Eyeshadows and new Studio Line!
11:25 AM
Wow! It's been a busy week - I can't believe my last post was on Monday! I'm totally slacking behind!

It was actually good timing that I received my order from e.l.f Cosmetics in the mail yesterday, as I was needing a fix of something new to try out! Last week I read some reviews about the new e.l.f. Studio line, and thought I'd order some products and give it a try. I also included some of their mineral eyeshadows - I mean, hey, at $3 a pop, it can't hurt to try them out, right?!

Below is my order - yay!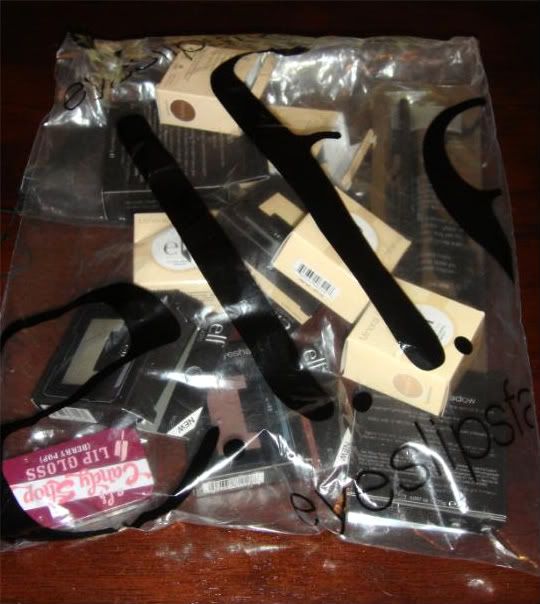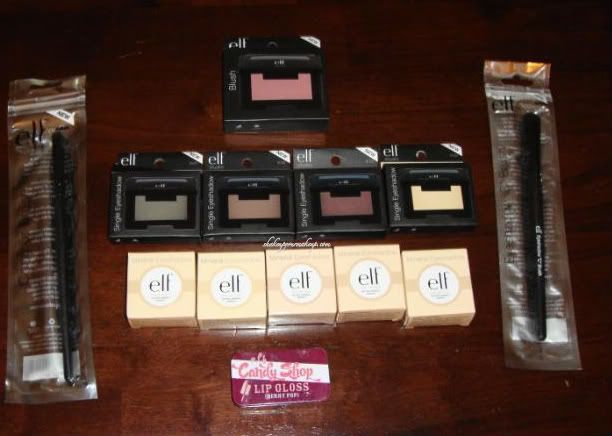 I ordered five of the mineral
eyeshadows
to try out: Socialite,
Caffeinated
, Celebrity, Elegant and Golden - all five are pretty basic colors, but still a bit different from the loads of other mineral
eyeshadows
I have.
The first thing I noticed was the size of the pot, which is equal, if not a bit bigger to the Bare
Escentual
eyeshadows
I have. The actual weight of the product is 0.03 oz, which I believe is the same as the BE shadows, but the price difference of $13 for a Bare
Escentuals
versus $3 for an e.l.f. Mineral Eyeshadow says a lot!
The colors are absolutely stunning in the pot - all five that I ordered are extremely shimmery, and some have a hint of other
iridescence
in them, like Socialite (which reminds me of Bare
Escentuals
Drama).
Socialite:
A beautiful deep, charcoal/taupe color with blue, pink and golden
iridescence
.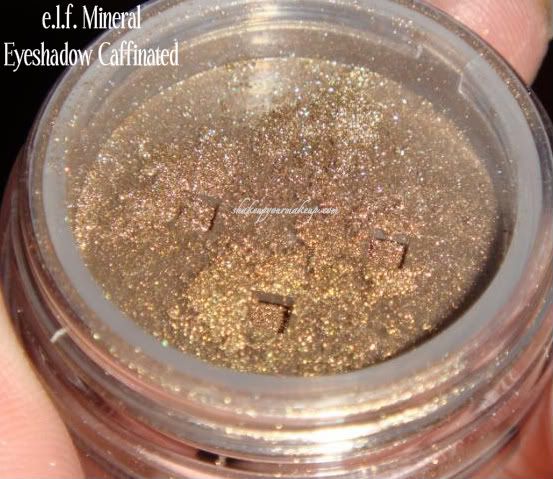 Caffeinated
: A rich, deep bronze with golden shimmer. Has a darker base, so this applies darker than it appears in the pot.
Elegant
: Pale buttery/golden ivory. Tons of
pearlescent
shimmer - gorgeous!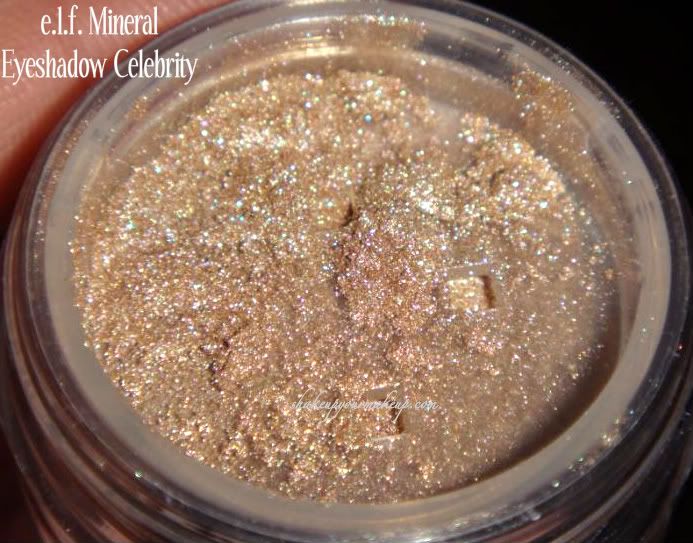 Celebrity
- a pale beige with
iridescence
. Reminds me of a cooler version of Bare
Escentuals
Queen Linda, as it isn't quite as golden as it is beige.
Swatches for each of the colors are below - these are absolutely stunning. The minerals are very pigmented and easily applied wet, dry, or as a liner. I am very anxious to test out some of the
other
colors in the collection, including their blushes!
Who else out there has tried these out? Let me know what you think - at $3 a pop, these would be a great way to expand into the mineral lines - gorgeous shades that effortlessly blend together.