Sally Hansen Hard as Nails Xtreme Wear "Lime Lights"
8:00 AM
Everytime I walk into a CVS or Walgreens, or even Walmart, I have come across the end-cap displays for Sally Hansen's Hard as Nails Xtreme Wear nail polishes, and find myself gravitating towards them. There are so many colors, it's like a rainbow! I decided to reach out and try something very different for me, which was to purchase the Lime Lights nail polish.

This color, although by the name one would think this was a true lime green, is more of a pale turquoise with green/gold shimmer. I really fell in love with the color because it isn't so *wild* that it is difficult to pull off for everyday. Also, being that it is so sheer, it can be worn over a color to alter the shade, or add some blue/green shimmer.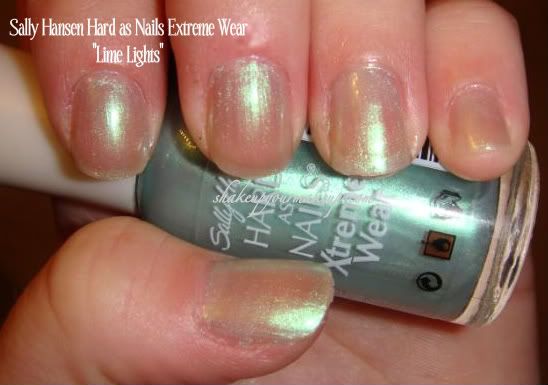 Being the avid gardener that I am, the ability of a nail polish to list on me is true test to the lasting power. I was pleasantly surprised with this line (this is the first polish in the Xtreme Wear I've purchased), as it lasted for a good 4-5 days without top coat, and no chipping or peeling. Also, I felt like my nails had some *umph* to them, as they didn't bend or crack, like they typically do from my every day wear and tear.

Take a look at the colors your next time in a local drug store or super center - there are plenty to please, that's for sure! And, what an easy way to add a pick-me-up or brighten any look!