MAC Color Craft Haul - Smooth Merge MSF, Eccentricity & Natural Flare Mineralize Eyeshadow and Pretty Pattern Lipglass
8:00 AM
As promised, I went to the MAC counter over my lunch on Thursday to check out the new MAC Color Craft Collection, and of course, pick up some goodies as well.  I was pleased with this set - the
eyeshadows
were much prettier in person, the blushes are gorgeous and the
lipglass
and lipstick have a broad range of colors that are sure to work on everyone.  This collection is full of different colors, so the options are definitely limitless, if you enjoy some shimmer and color.
Below, I bought
Mineralize
Skin Finish in "Smooth Merge",
Mineralize
Eyeshadow Quads in "
Eccentricity
" and "Natural Flare", and
Lipglass
in "Pretty Pattern".
The
lipglass
, Pretty Pattern, is a swirl of cream, brown, mauve and hints of lavender sparkle.  Once applied, it is a gorgeous light mauve/brown.  I can already tell this is going to be one of my "go-to" colors in my purse - it's not an
overwhelming
or "look at me" type color.  It's natural and beautiful.
The
Mineralize
Eyeshadow in "
Eccentricity
" its a beautiful collection of gold, lavender, purple and golden-taupe.  These colors work very well together to create an entire look, but I love purples and needed some new shades to add to the collection, and this was the perfect set.  The lavender is a beautiful, light purple with a hint of pink.  The deeper purple is truly a wearable egg plant color.  The taupe has hints of gold/bronze in it, that allow it to work well with the purples and the light gold in this quad as well.  All of these are very shimmery, and remind me of a pressed version of the Solar Bits.
Natural Flare is an absolutely gorgeous neutral, gold, bronze collection.  At first I was hesitant to pick it up because the deep brown reminds me of a more shimmery version of the
Buckwheat
from the Honey collection, and the bright orange shimmer reminds me of Fire Spot.  I will do a comparison of these colors to allow you to see the
similarities
and differences shortly.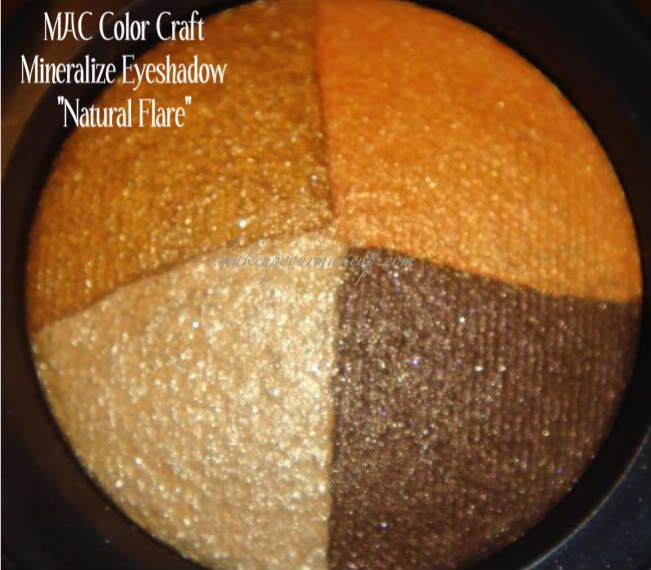 As you can see below, these are very shimmery, and borderline glittery, colors.  I love this type of eyeshadow, but if you don't care for shimmer, or the potential for fallout, I wouldn't recommend these for you.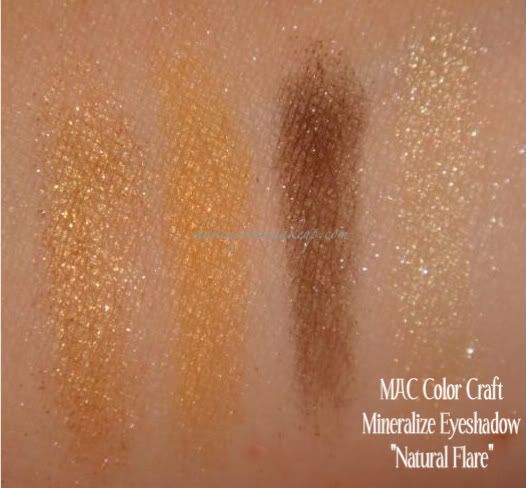 Smooth Merge is an absolutely GORGEOUS trio of
Mineralize
Skin Finish - I think this color would work well on anyone.  It has a strip of cooler pink, and two outer stripes that are a bit warmer.  Once blended together, it makes such a gorgeous warm flush color!  The
functionality
of all of the colors go well beyond that of just a blush.  The lighter colors can be used as a high light, eyeshadow, flush, blush,
lipgloss
, you name it.
There are other sets I am still eyeing, and may go back to take a look at this week.  I wanted a couple of the blushes, and maybe two more of the
eyeshadows
, so keep checking back as there may be more swatches to come!