Palladio Baked Collection - Wish Blush and Cafe Latte Eye Shadow
8:00 AM
While shopping at Ulta last weekend, I stumbled across a little display of a brand called Palladio.  I've never used this brand, but was intrigued by their Baked Collection of blushes and eyeshadow trios, so being that they were buy one get one 50% off, I thought I'd take the plunge.  If I remember correctly, each item ran about $7.00, so not too expensive in the grand scheme of drug store brands. 
The first item I picked up is a baked eyeshadow trio in Cafe Latte, which is a beautiful set of shimmery neutrals - ivory, a light taupe and deep chocolate.  The texture is very soft and well pigmented, and easy to apply and blend.  They are shimmery, but not
sparkly
.  There are tons of colors to choose from, and they can be seen
here
.
The blush I picked out is called
Wish
.  This is a gorgeous, light berry with lavender shimmer.  The blush and
eyeshadows
are the same sizes.  The
pigmentation
of these blushes are just as nice as the
eyeshadows
.  These are shimmery as well, but not gritty and
sparkly
.  There are various other colors as well, which can be seen
here
.
The swatches of the colors are below.  I really have been pleasantly surprised by these items.  I am going to have to go back and pick up some other colors, especially the blush.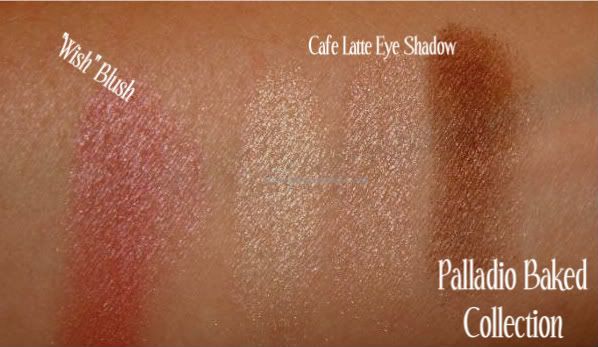 Have you guys tried this brand before?  What are your thoughts?