Yes to Carrots - C Loves Color Lip Tints
8:00 AM
I went to Target yesterday to pick up another Burt's Bees Tinted Lip Balm since I lost the one I use all the time. Well, actually I think the washer and/or dryer ate it, but regardless, I can't find it anywhere!

While walking through the aisles, I found an endcap with a brand called Yes to Carrots. I had seen these once before when I was in Beauty Brands, and had always been curious about the quality. I decided that I would pick up a set of the three lip tints, since they were only $4.99 for the set, where Burt's Bees can be about the same price for a single lip balm.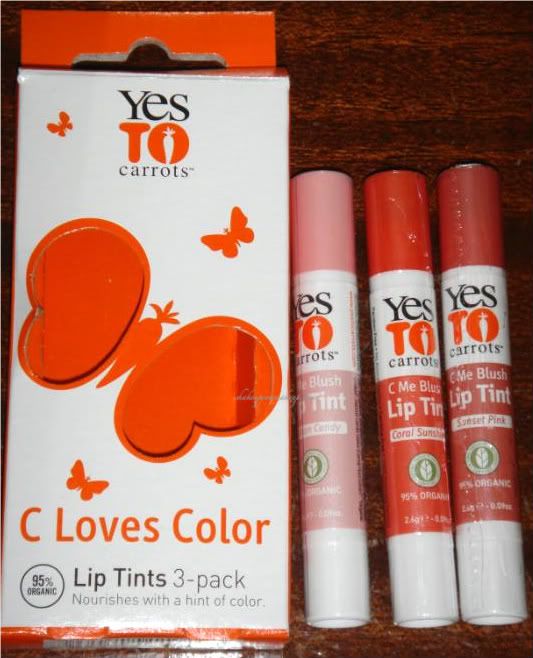 I was pleasantly surprised with the quality of the product. The tubes are very similar to those for Burts Bees - very small, thin, and easy to keep in your purse. The actual product itself reminded me of the BB's as well: a very thick consistency with a hint of mint and shimmer to each of the tubes.

As described on the Yes to Carrots website:

C Me Blush
Lip Tints
2.6g - 0.09 oz.
Enhance your natural look with these sheer, alluring shades that work with every skin tone.

The all-natural formulas made with 95% certified organic ingredients soothe, condition and moisturize for soft, kissable lips.

Available in 6 blushing shades:
+ Chocolate Kiss
+ Natural Smile
+ Ready Red
+ Cotton Candy
+ Sunset Pink
+ Coral Sunshine

Key Ingredients & Benefits
All-natural, 95% certified organic ingredients
Organic vegetable extracts & vitamin E provide antioxidant protection
Coconut, jojoba & sunflower oils nourish and condition
Shea Butter soothes and hydrates
Beeswax locks in moisture to form a protective barrier
Mineral pigments add color naturally

What's Not Included?
Free of parabens & phthalates
Free of phenols & petroleum that can dry out lips
Free of carmine (a colorant & harsh additive derived from crushed beetle shells)
No animal testing




The texture is extremely smooth and the smell is very alluring. Not only does it give you the benefits of all natural ingredients, but the color payoff is great as well. Even better, there is NO animal testing, which is an A+ in my book!


If you take a gander at the Yes to Carrots website, you'll find all sorts of beauty and face/body/hand care items. After these great lip balms, I'll be trying out some of the other items as well!