FOTD: Greens and Turqoise (and MAC Phloof & Dazzleglass Rags to Riches)
8:00 AM
The other morning, while putting on my makeup, I realized I haven't worn any color in a while, so I thought I'd play around with some greens and turquoises to add some *pop* to my look. Usually in the spring/summer I go over the top with really colorful eyeshadow, but not this year for some reason.

To create the look below, I dug around in my eyeshadows and found a few shades I had not touched in a while, including some Jesse's Girl eye dusts (which I absolutely love for the price), my Bare Escentuals Peacock Glimmer, and the dark brown eyeshadow Lucky Tom from the MAC Hello Kitty Lucky Tom palette. To finish off the look I used my new MAC Dazzleglass in Rags to Riches, which is a beautiful sheer baby pink with sparkles.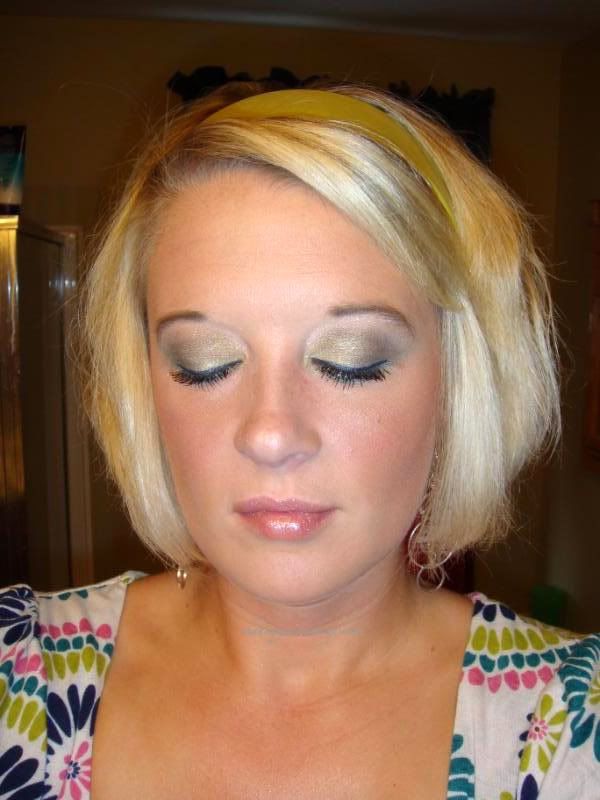 I have to say, I'm kind of partial to this look! I really like that it's relatively natural as far as colored
eyeshadows
go, but just adds a hint of turquoise and green to the eyelids so that it's not a boring look. I'll have to remember this one!
Face:
Bare
Escentuals
Medium Foundation
Bare
Escentuals
Mineral Veil
Bare
Escentuals
Pink Diamond Blush
Eyes:
Urban Decay Primer Potion
MAC
Phloof
-
all over lid and lower

lashline
Jesse's Girl Sunlit Cactus Eye Dust - inner corner of lid
Bare
Escentuals
Glimmer Peacock -
outer corner of lid, lower

lashline
MAC Eyeshadow Lucky Tom - crease
Jane Gel Eyeliner Navy
-

lashline
L'Oreal
Extreme Collagen Mascara
Lips:
MAC
Dazzleglass
Lipgloss
Rags to Riches