Swatches: Avon Ultra Color Rich Moisture Seduction Lipsticks in "Rosewine" and "Perfect Pink"
8:44 AM
After the swirly-goodness that is the Laura Geller Lipstick in Banana Berry, I thought I'd post a couple more swirlies for all of you to enjoy!
From the Avon website:
"Our most moisture-infused lipstick…for the lushest color you've ever known! Up to 500% moisture boost. 1000% full-on sexy lips. Ribbons of rich moisturizers intertwine with seductively smooth color for a sensuous surge of deep hydration."
Perfect pink is a very bright pink, swirled with the moisture ribbons and a hint of shimmer. The actual color is quite muted because the swirls don't have any color to them, thus cutting the actual color of the lipstick. Instead, you have nice moisture and high shine, with a hint of color.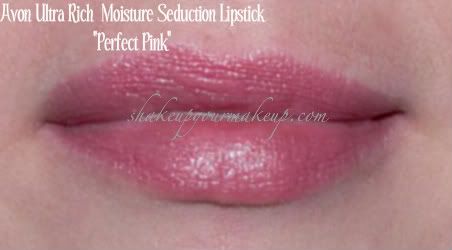 Rosewine is a gorgeous, warm, berry shade. This particular color has more lipstick and less swirls of the moisture ribbons throughout, thus making it more pigmented. On, it becomes a very rich berry color.
Both of these lipsticks live up to the hype of being "moisture rich". The pigmentation is nice, and really, for as rich and moist of a lipstick, the color doesn't travel off of the lips into the fine lines around your mouth. Lasting power is pretty good. It's definitely not what I would consider "long wearing", but it's also not sold as that.
These are SPF15, which is an added bonus. Retail price is $8 on
www.avon.com
.
Have you tried any of these lipsticks before?