Swatches: Cover Girl NatureLuxe Gloss Balms "Pinot" and "Muscat"
9:32 AM
Looks like it's a lipstick week for me! Here are two more lippies I bought recently that are just little beauties. This time around it's
Cover Girl NatureLuxe Gloss Balms
in Pinot and Muscat. Being the pretend "wine-o" that I am, I had to purchase these two colors simply because of the name.
These are part of the new collection that Taylor Swift is behind. From the Cover Girl website:
"Get the sheer color and shine of a gloss with the soft, lightweight feel of SPF 15 balm. Fortified with mango and shea butter, this feel-good formula leaves your lips feeling decadent and delicious."
Pinot is a very raspberry shade with a hint of pink shimmer. Although there is shimmer in the balm, I barely saw it translate on the lips. Instead the color is a sheer, but deep, berry on the lips.
Up next is Muscat, which is a warmer, almost (but not quite), red. Again, the color is rich, but sheer as well. I would say that Muscat is a bit brighter than Pinot, but both are gorgeous in their own right.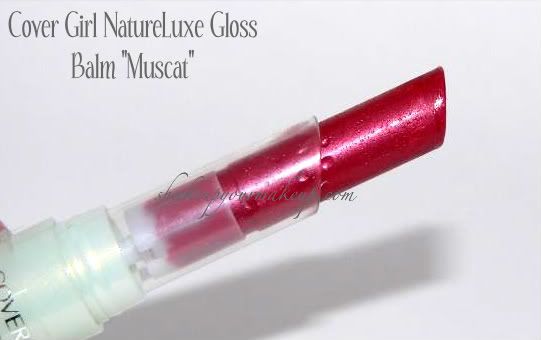 I really like the consistency of these. Like a stain, you get a translucent color on the lips, but unlike a stain, these are moisturizing and don't make my lips peel, flake, or dry out. Also, unlike a lot of balms out there, you have quite the selection of colors and tones to choose from. This isn't your mama's Lip Smackers, that's for sure!
The NatureLuxe Balms retail for approximately $6 at drugstores, but with all the coupons and BOGO50's that happen, I'm sure you can get it for less than that.
Have you tried these balms? What did you think?