Swatches: Avon Pefect Wear Extralasting Lip Gloss "Perpetual Pink" and "Everlasting Petal"
8:59 AM
Sorry for the delay on posting - I along with everyone else using Blogger seemed to have some issues! Anyway, on to the next swatch of lippies!
Up next we have Avon Perfect Wear Everlasting Lip Gloss. I have two colors here: Perpetual Pink and Everlasting Petal. These are, as the name states, long lasting lip gloss. The consistency is quite thick, the pigmentation is nice, and there is a really nice shine. The formula really does last. Surprisingly, this did not make my lips dry out or flake. They felt moist the whole time I wore the color, it didn't trail or feather along the lips, and when the gloss finally did wear off, it didn't leave splotchy coloring behind on my lips. Depending on the color, you may or may not see any color left behind at all: Everlasting Petal = none; Perpetual Pink = a hint of color.
Both shades below have a hint of shimmer as well, but I wouldn't say this translates onto the lips. In other words, these aren't frosty at all. They just sort of, glow.
Everlasting Petal is the more sheer color of the two swatched here. This is a warm pink, with swirls of coral and gold shimmer throughout. This gives the lips a lot of shine with just a *hint* of color.

Perpetual Pink, on the other hand, has a nice pink/plum base with just a pinch of shimmer. This is more opaque, and therefore more pigmented than Everlasting Petal. I use this almost every day. It's a perfect pink color for me, and I love how it lasts.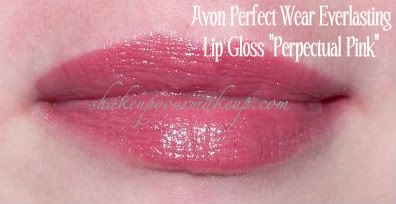 Have you tried these yet? What's your favorite color? I'm thinking I might order a couple more. The price is $8.00, but were regularly on sale.