Jordana Pretty Shine Luxury Gloss and Easy Liner Eyeliners
10:02 AM
I cannot leave CVS or Walgreens without picking up something from the cosmetics department, and yesterday was no exception! I ran into Walgreens to pick up some pictures I had printed for a wall frame, and came across these little hidden treasures:
Jordana Easy Liner Retractable Eyeliners
and
Jordana Pretty Shine Luxury Gloss
. What's even better? They only cost $1.99 each!
When it comes to lip gloss, I'm an easy sell if the colors are rich and frosty. All of these met the mark! The three colors I grabbed were: Divine, Lovely and Darling. Divine is a rich and metallic rose-copper color; Lovely is a frosty peach-gold, and Darling is a rich pink with silver frost.
Jordana Pretty Shine: (right to left) Darling, Divine, and Lovely
Top to Bottom: Divine, Lovely, and Darling
Swatches: (Top to bottom): Darling, Lovely and Divine
When it comes to eyeliners, I am a liquid eyeliner fanatic, but sometimes a good pencil liner is just what you need for the lower lash line. I find it extremely difficult to find a soft pencil that doesn't snag and pull when you try to apply it, but I stumbled across Jordana's Easy Liner retractable pencils a few months ago, and find myself going back to grab more as needed. This time I picked up a few colors that I am lacking in my pencils - blues, greens and purples. The four colors I picked were Mint, Sterling Blue, Seagreen and Purple Fusion.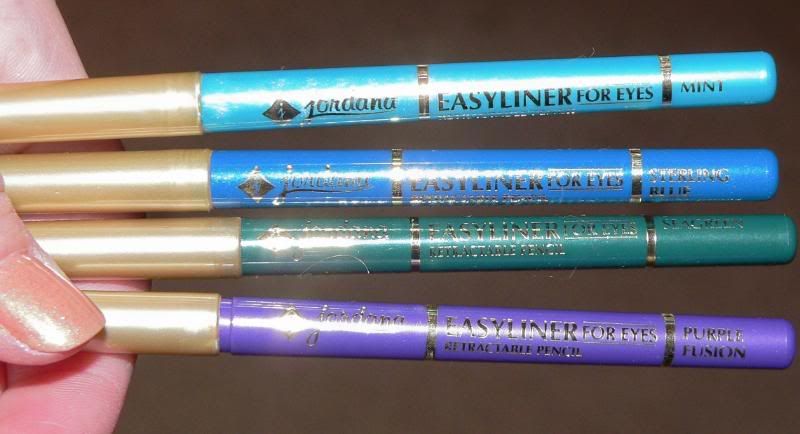 Top to Bottom: Mint, Sterling Blue, Seagreen, and Purple Fusion

Left to right: Mint, Sterling Blue, Seagreen, and Purple Fusion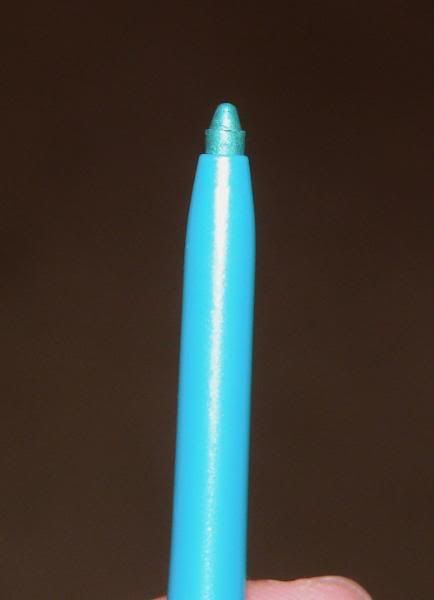 Above is a closeup of the pencil - as you can see it has a nice fine point, and can be twisted up/down to allow for easier application.
For the price, these are an absolute must, and they have tons of colors to choose from!