EOTD: Taylor Made Minerals "Mirage", Sassy Minerals "Star Struck", MAC Pigment "Quick Frost"
8:56 AM
A little bit different of a look for today, using
Taylor Made Minerals
in Mirage,
Sassy Minerals
in
Star Struck
and MAC Pigment in Quick Frost. I have to admit, I completely forgot about my Taylor Made Minerals, and they are absolutely stunning. I have found that they are even more beautiful now that I have discovered the Fyrinnae Pixie Epoxy, so that is a huge plus! A lot of the shades from TMM that I have purchased were duochrome, and when applied dry they just didn't *pop*. Mirage is a prime example. In the pot, the product looks like a matte white with a light blue sheen. When applied over the Pixie Epoxy, the shade takes on a whole new life! (
Click here
to see pictures of the Taylor Made Minerals in the pot/swatched). Instead of being just a basic white, the actual shimmer of the periwinkle blue shows up, and it's almost like a light has been turned on. This is such a gorgeous pale lavender/blue shade with just enough shimmer to stand out. Seeing as the dress I was wearing had the same pale blue shade, I chose Sassy Minerals "Star Struck" as the darker shade. In the pot, this color looks like a deep navy/purple with silver sparkle. Again, using the Pixie Epoxy made this color even more complex and beautiful. Because I paired it with Mirage, the more blue/navy shades came through. Add the MAC Pigment as the highlight, and the whole look is tied together.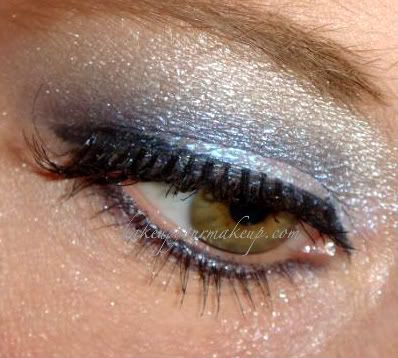 .
Eyes:
Fyrinnae Pixie Epoxy - base
Taylor Made Minerals "Mirage" - inner corner, blended into crease
Sassy Mienrals "Star Struck" - outer corner, crease, blended along lower lashline
MAC Pigment "Quick Frost" - highlight
Physician's Formula Gel Eyeliners -
Black
from Gree Eye Set
Ardelle False Eyelashes (do not know #)