NYX Candy Glitter Eyeliners: Disco Queen and Lavender
8:00 AM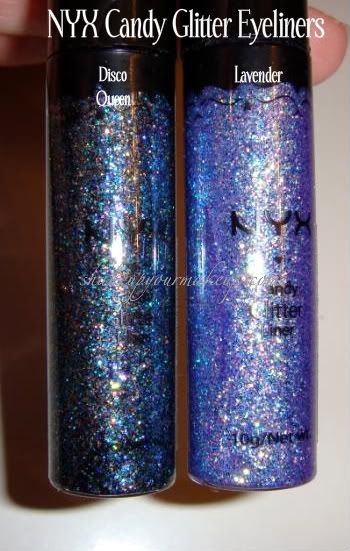 The last installment of my glitter haul from Ulta a few weeks ago - the
NYX Candy Glitter Eyeliners
in Disco Queen and Lavender. I've come to the conclusion that good glitter eyeliners are hard to come by - either they flake like crazy, the brush is worthless, or the color selection is limited to gold and silver. NYX is definitely the exception to the rule!
NYX offers 18 different colors in the Candy Glitter Eyeliners - yes, some are the basic golds, crystals and silvers, but there are various shades of greens, blues, purples, and even the deeper colors like irridescent black (Disco Queen!). The brushes on these liners are very thick, durable, and pick up plenty of product without applying a gloppy line. These are not felt-tip either, these are synthetic hair. Although the brush is thicker, it still draws a very precise line. The liner itself is full of moisturizers, so it leaves behind a nice smooth line that lasts, without become hard and chunky, and flaking off. Note: This is one of my biggest pet peeves about ANY liquid eyeliner, glitter or not. I hate when a chunk of the liner flakes off, leaving a blank spot along your lashline!
The colors are really quite beautiful in person. The base of the liner has the hint of color (for instance, look at the swatch of Lavender below - see how the background shows the bright purple shade?). The glitter then compliments the overall shade of the liner. Because of their basic transparency, these are beautiful on their own for a subtle look, or you can apply over your favorite liner to add some *umph* to the shade. I personally love to use these over black, but they are just as beautiful over any deep shaded liner.
Disco Queen is a deep, almost-black, shade with various irridescent shades of glitter. I get lots of blues, red and greens when I look in the tube, but upon movement you also see crystal, silver and golds. This is a beauty of a shade!
Lavender is just that - a bright and gorgeous irridescent purple. There are also hints of blue, pink and turquoise in the liner as well. This is so pretty on it's own, but I applied it over a basic purple liner and it just made it pop!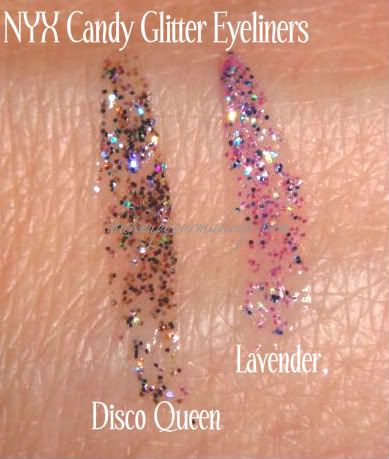 Below are all the other colors available, and from my memory, these are very true to life. I just love the variety!