Review: Essence Lash Mania Mascara...a Diorshow Dupe??
8:35 AM
In addition to my post yesterday, I also bought
essence's Lash Mania Mascara
, which retails around $3.99 a tube. Now, I'm big on first impressions, and when I pulled out the tube and looked at it, the first thing I thought was....
Dior Show Mascara! Could we possibly have a dupe on our hands??
The brush in the essence Lash Mania mascara is quite similar to the Diorshow. This is a larger brush, with the spiraled, individual bristles running down the brush. I did notice this brush is a lot fatter than a typical brush, which is also reminiscent of the Diorshow mascara.

The product itself is not quite as wet as Diorshow - but...that's not to say that it's dry in the tube. It's just not as wet/thin as Diorshow. Application was was a breeze. Every lash was coated with mascara, and because of the fatness and consistency of the essence mascara, there was no clumping or glopping together of the lashes. I also didn't get the smearing of mascara on the lid/under eyes that a lot of the fatter brushes tend to present - I think this has to do with the constency of the product as well.
On the other hand, although for the price I think this is an excellent mascara, there are a few things that this leaves me wanting. For one, I don't think this has quite the lengthing power that some other mascaras on the market have, including Diorshow. Yes, there is great volume and separation of the lashes, but the length leaves a little to be desired. The color isn't quite as intense a black as some others, either. Personally, I find that a really deep, intense, black mascara can really enhance the lashes and eyes, regardless of how thick or long they are.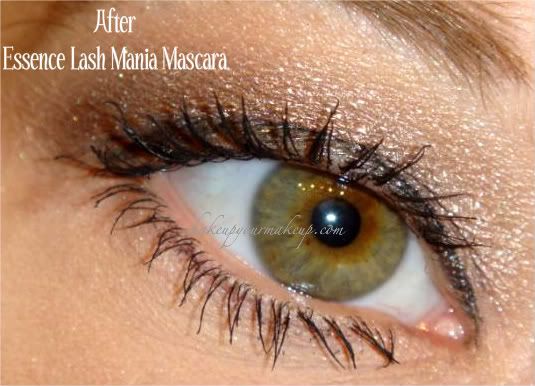 Overall, I really can't complain too much about the mascara. I've been using this for two weeks and haven't switched back to any other tubes in my collection. The pricepoint is unbelievable - there aren't even any other drugstore brands that come close to the $3.99 price tag this day and age. The product wears well all day and doesn't flake or smear. For a simple, not over the top dramatic mascara, this one is definitely worth a try!