essence Cosmetics XXL Shine Lipgloss, Crystal Eyeliner, and Lash Mania Ultra Volume Mascara
8:26 AM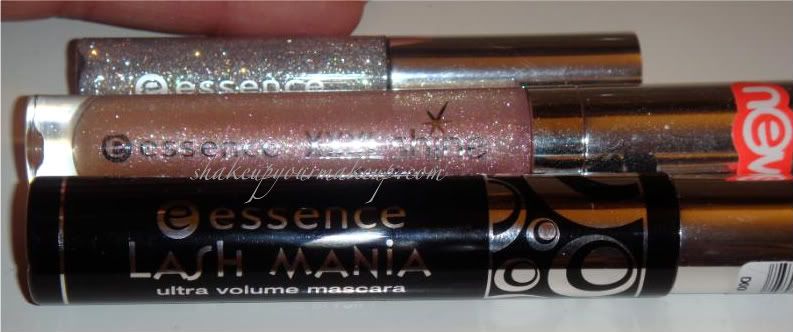 The eyeliner in Dazzling Silver is a mixture of irridescent glitter and silver glitter. These are not large chunks, and actually apply quite sparingly, which I find to be a huge bonus. This gives you the flexability of adding a little or a lot of glitz to your look. The brush (pictured above) is a fine, synthetic hair. The consistency of the formula isn't runny by any means, but isn't thick either. If you click and look at the larger image above, you'll notice that there isn't anything chunky or gloppy, so this makes application a breeze. Sorry I didn't take a closeup of the tube so you could see the glitter - I completely forgot!
I purchased the
XXXL Shine lipgloss
in Bubble Babe, which is a sheer powder pink with silver shimmer. There really isn't any pigmentation to the gloss itself, its only the shimmer that has the color. This is a great gloss for just a lot of shine on natural lips, or to add some shimmer and shine to a lipstick.
The applicator is an elongated doe-foot. I'm not sure I'm a huge fan of it, just because it's a bit ackward for me to use. I actually prefer a brush to a doe foot.
The swatches are above - lipgloss to the right and glitter eyeliner to the left. I find that the eyeliner is great on top of black just to add some shimmer. I applied two coats of each - can see the shimmer in both the gloss and the sparkles?
I'll say that the price of the items in the
essence
line are really quite reasonable. If memory serves, they ran from $0.99-$4.99 a piece, depending on the item.