NYX Haul: Swatches of Runway Collection "Secret World"
6:47 AM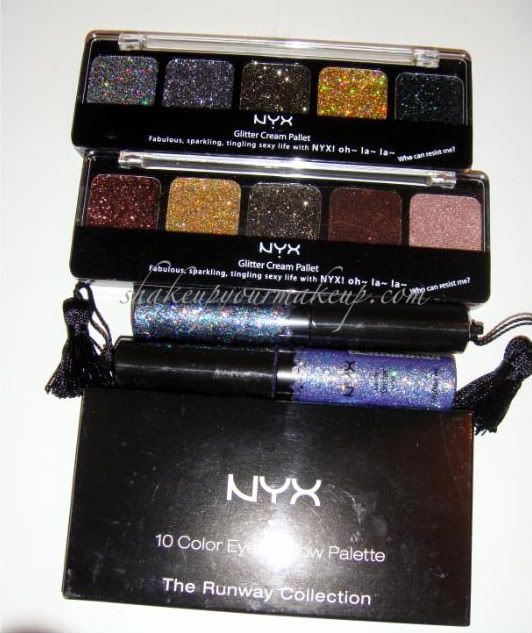 Ulta had (or may still have - I haven't been by in the past few weeks) NYX items buy 2 get 1 free, so I used this as an opportunity to pick up a few new items I have been wanting to try. I've always eyed the Glitter Cream Pallets, and of course had read numerous rave reviews about the Runway Collection, so I took this opportunity to pick a few of those up, as well as some of the glitter eyeliners.
Speciically, I wanted to show you how gorgeous this Runway Collection in "Secret World" is. Obviously I picked up the greens...I mean, I'm such a sucker for olives and golds, this was a natural. Below you can see all the shades available in this collection if greens and golds just aren't for you.
The close up is below - feel free to click the image for a larger view. All of the shades are pearl/shimmers, although a handful of them have a hint of glitter (the second from the left on the top - golden beige shade - and the far right on the top - chocolate with golden glittler). Each shade is full of pigmentation and very creamy. They were easy to apply, and one stroke did it on my swatch below. Even the the lighter and more natural shades had a lot of color to share, so they won't be wasted in the purchase like a lot of other multi-shade pallets.
The swatches are below - I started with the top and went left to right, and then moved onto the bottom. The only one that is difficult to see due to the reflection from the flash is the bottom right, which is a warm snowy white pearl.
Also, as I mentioned above, there are tons of other shades available - a total of 8 color combinations. There is something for everyone - blues, greys, neutrals, greens...you name it. Some of them have matte shades available as well, so it really is a matter of going to the store and checking them out. Ulta also has open pallets that are swatchable in store, so you can tell if you like them or not on the spot!
I really did find this pallet beautiful, and it will be one of my "go to's" for quite some time. Do any of you have these? I'd love to know what you think, and what shade you purchased as well!
I'll show you swatches of the glitter pallets and the eyeliners coming up!