Review: Physicians Formulas Shimmer Strips Custom Eye Enhancing Gel Eyeliners - Green Eyes
8:00 AM
Taking another page from the beautiful
Recssionista's
book, I
finally
found the Physician's Formula Shimmer Strips Gel Eyeliners she reviewed
here
at my CVS! And, to be totally honest, these have been pending my review for quite some time, since life seemed to get in the way of blogging for a while there. :)
I purchased the set for Green Eyes although there are also sets for Brown Eyes, Hazel Eyes and Blue Eyes. The eyeliners are stackable, with bright metallic lids which interlock. The lids themselves unscrew so you can keep your eyeliner nice and moist without the worry of drying out. I do like the fact that they can either stack or be separate, because depending on what type of storage you use, have a large stack of eyeliners might be a deal-breaker! The set also comes with a surprisingly nice eyeliner brush. The brush is tapered, and flat, so it can be used to create a smooth thin line, or a thick bolder line. It is also made of sturdy, but not stiff, bristles, so it won't tug and "scrape" along your eyelid when applied.
The three colors in the Green Eye stack are a bright blue/purple, a bright leaf green, and what appear to be a rich black. Below is a close up of each eye line in the pot.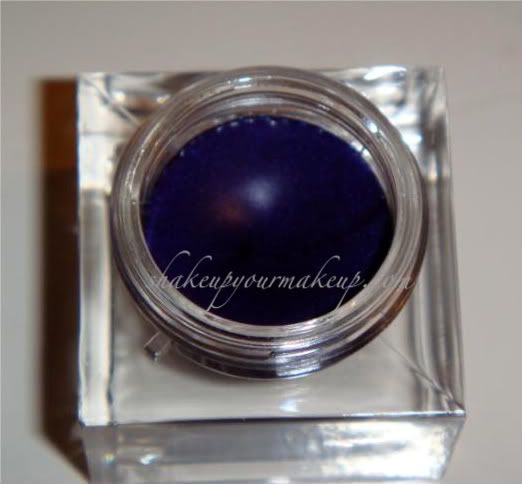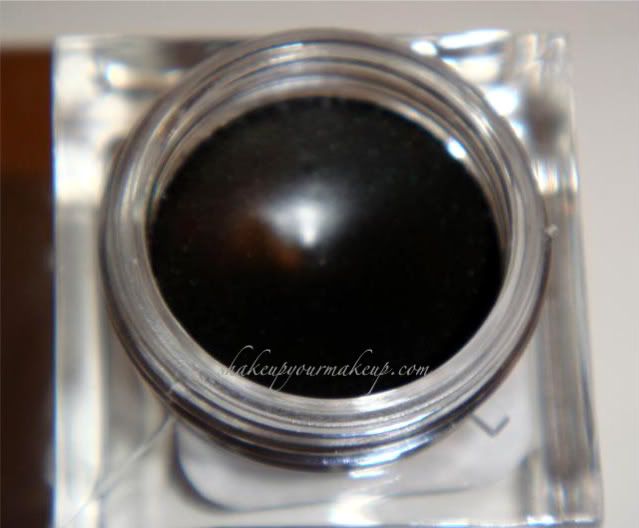 As you can see below, the blue is actually a bright egg-plant, but for some reason all the blue iridescence shows up in my picture of the pot of liner. The green is just that, a bright leaf green. Its not as olive as it appears below, which I will show you by comparing it to MAC's Fluidline in Sweet Sage. You can sort of see the subtle shimmer in each of these, although some have more than others. I'd say that the blue/purple is the least shimmery of all three, then the green, and although you can't really see it below, the black has this beautiful turquoise and purple/green shimmer!
Just to give you an idea as to the size of each pot, I have compared this to a MAC Fluidline Pot. Let's be honest, MAC gives a lot of product in these pots, so as you can see, the Physicians Formula pots are quite generous, and you get three for about the half the price of a Fluidline pot. I also wanted you to see the comparison of this particular green next to a true sage/olive green color. As you can see, the green in the Physician's Formula is really a true/leaf green, although there is a hint of golden shimmer to it, helping neutralize the color once applied.
Here are the two: Physician's Formula's green and MAC Fluidline Sweet Sage next to eachother.
Retail Price: $10.99
Where to purchase: CVS, Walgreens,
Product: 5 out of 5
Price: 5 out of 5
Packaging: 5 out of 5
Overall: 5 out of 5
Would I purchase again? Absolutely! Very rarely will I give a product a 5 out of 5, but this one is the exception. The colors are gorgeous, the application is beyond simple, and the brush is great too! Let me just say that I have tried every drug store gel eyeliner available, and nothing applies quite like this. I would almost think it was a liquid when I applied it - the brush moved along the lashline so smoothly, and there was no tugging or pulling and dragging of the product, so you get a nice, smooth line immediately. Also, because the eyeliner is extremely pigmented, there is very little need to re-apply over the first line, so you don't get that cakey effect that can happen with some liners. As a result, there is no flaking or cracking during the day! Nothing annoys me more than when I look in the mirror in the afternoon and the liquid or gel eyeliner I applied earlier that day has cracked out of the inner corners of my eyes, so it looks as though I only applied eyeliner to half my lid! Also, I must say that this product wears like iron. After I swatched the liners, I let them dry, and then did the *Mally* test, as I call it...do any of you ever watch Mally Beauty on QVC and see her rigorously rub back and forth on the models hand for her liners and shadows? It's quite amusing, but speaks volumes to the capacity of her products to stay put! I swatched it early in the morning before I went to work, and even after I washed my hands with soap and water, there was the remnants of the liner on my hand. Don't let this deter you, though - when I used my face wash, which is just basic Olay, it came right off. So, as I said, this wears like iron!
I just wish my CVS kept things in stock - I would love to try some of the blues or browns! I will just have to pop into another CVS or Walgreens and see if they have any other shades!
Definitely a great product - have any of you tried this?