Nars "O" Dupes (Milani Luminous, Wet 'n Wild Pearlescent Pink, Loreal Front Page Peach and Ulta Afterglow)
8:00 AM
Something I find I am always trying to do is find a good knockoff of a product in a drugstore brand. I posted a few days ago about a good duplicate of the Urban Decay Primer Potion in the Lumene Beauty Base Eye Makeup Base, and now I am going to tackle the infamous Nars O blush.

While going through my collection of blushes, I discovered I have about every possible knockoff available, so I thought I'd line them up against the real deal - Nars.

Wet 'n Wild "Pearlescent Pink" - shimmering pink/coral - more pink than coral with golden shimmers.

Ulta Blush "Afterglow" - shimmering pink with coral/gold sparkles - cooler undertones than Nars O.

Milani "Luminous" - coral blush with golden shimmers and a more golden undertone.

Loreal "Front Page Peach" - pale coral with a hint of pink and very golden shimmers.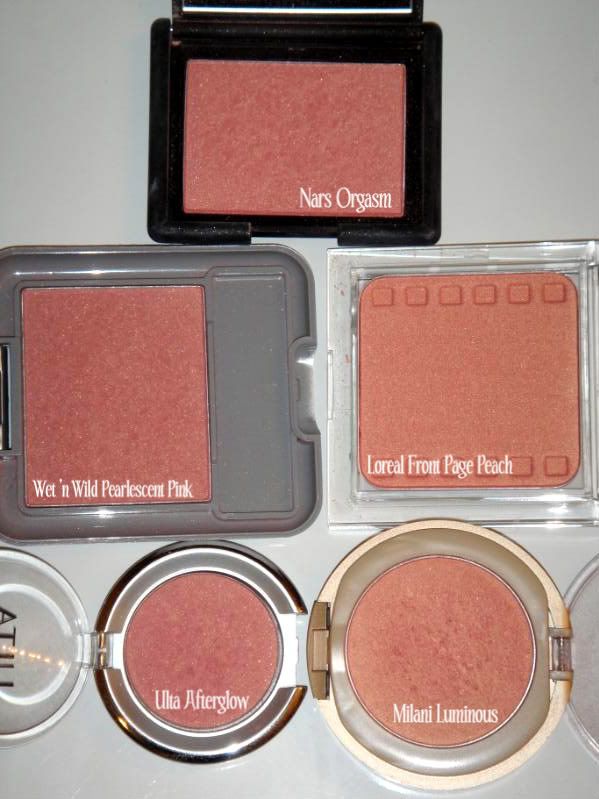 From the swatches below you can see the similarities and differences in all the colors. Depending on your
skintone
, some might work better than others (i.e. darker
skintones
might want the deeper corals of
Ulta
Afterglow and Wet 'n Wild
Pearlescent
Pink). I think that of the four I am comparing to
Nars
, that
Loreal
Front Page Peach and
Milani
Luminous are the best in actual comparison.
Loreal
has a bit more golden shimmer, and the
Milani
isn't quite as pigmented as the
Nars
, but all in all, these are the most similar.
Milani's
you should be able to find at any of your local drug stores, where
Loreal
Front Page Peach I had to purchase on
Ebay
.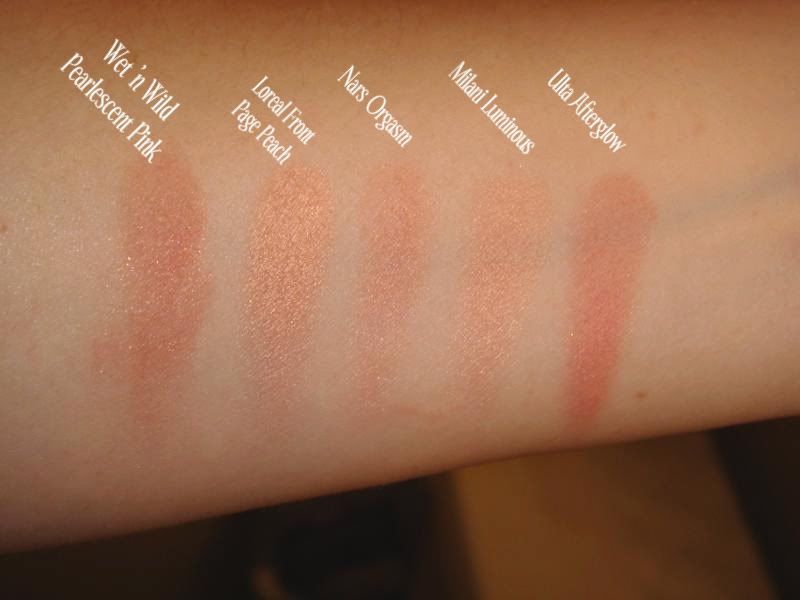 Because I just received the
Loreal
Front Page Peach in the mail yesterday, I had to play around with it and see if I liked the color or not - which I do! Not only is it a great flush, but it has a beautiful glow associated with it. The glow isn't quite as evident below, but this is a beautiful blush!