Jane Aquaceuticals EyeStix Eyeliner Pencils
11:57 AM
I've been a little MIA recently because I have the dreaded cold that is running rampant through our office - yuck! Unfortunately it hit about Thursday and I'm still feeling the repercussions of it! Regardless, I figured some makeup would make me feel better, so I thought I'd post about the Jane Aquaceuticals I bought myself before Easter.

I found four colors left - black, bronze, taupe and wine - at my local Walgreens, so I bought them all up. They are pretty fat pencils, but the color payoff is great! There is a bit of a cooling sensation when applied, and they remind me of the old Maybelline eye pencils that had the same effect, only the Jane Aquaceuticals actually lasted and had better pigmentation.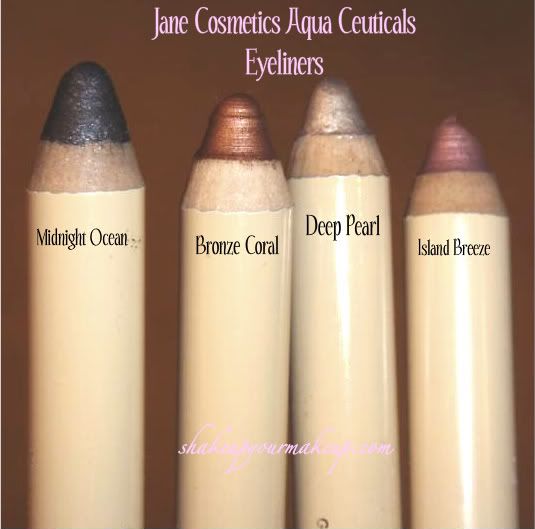 The swatches are below - as you can see a few of the colors have a little bit of minuscule glitter to them, but it didn't irritate my eyes like some glittery eyeliners do. I love the color of the Deep Pearl, because I find it's hard to come across a good taupe eyeliner that doesn't pull and drag along your lashline when applied.



If you happen to come across these are your local Walgreens while they are being clearanced, I'd say for the $2, they are definitely worth it!