The Balm Palette "Balm Beach" and Revlon Color Stay Finishing Powder "Brighten"
8:00 AM
The Balm "Balm Beach" palette is absolutely gorgeous! I can't wait to wear this when I get back from Floriday here in about a month - what perfect colors to wear with a nice tan! There are three colors that can be worn as eyeshadows and bronzers, as well as a gorgeous lipgloss in this palette. The top color is a matte bronze, the middle is a beautiful coral/peach with golden shimmer and the bottom is a peachy bronze shimmer. These are absolutely gorgeous!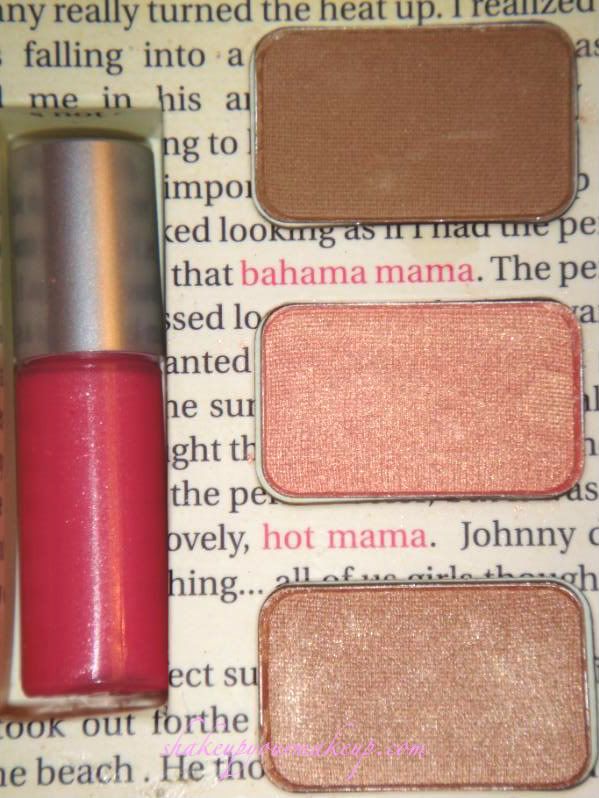 Secondly is the Revlon
Colorstay
Mineral Finishing Powder in "Brighten". This is a drugstore version of the MAC Mineral Skin Finish blushes and highlights, although it doesn't necessarily carry the drugstore price. At around $14.00, I would definitely wait for a coupon or
BOGO
to come along, although the product is beautiful. A gorgeous shimmery pink, this works great as a highlight or eyeshadow.
There is also a bronze color, which I am hoping to pick up next time
CVS
has buy one get one!
Below is The Balm palette on, along with the Revlon as a highlighter - gorgeous! I just can't wait until I have a tan! :)
Everyday Minerals Intensive Foundation "Fairly Summer"
The Balm Palette "Hot Mama" - blush
Revlon
Colorstay
Mineralize
Finishing Powder "Brighten"
Eyes:
The Balm Palette shimmery bronze - lid
Ulta
Eyeshadow "Olive" - crease/outer corner
Ulta
Eyeshadow "Lustre" - highlight
Milani
Color Brilliance Eyeliner Pencil "Green" - lower
lashline
Max Factor 2000 Calorie Mascara