Wet 'n Wild Limited Edition Pixie Holiday Color Icon Palettes: Sugar Plum Fairy, Night Elf, Golden Goddess, & Snow Sprite
8:00 AM
Well hello my beautiful shadows! I've been looking all over for you! I decided I *needed* all four, so below are pictures and swatches. Enjoy!

Golden Goddess: A set of 6 gorgeous golds and bronzes, all with either a little or a lot of shimmer. Pigmentation is great on all of them, even the top left - this reminds me of a pressed version of MAC's Vanilla Pigment when it's on, although not in the pan. The pencil that comes with this is a deep copper/bronze shimmer.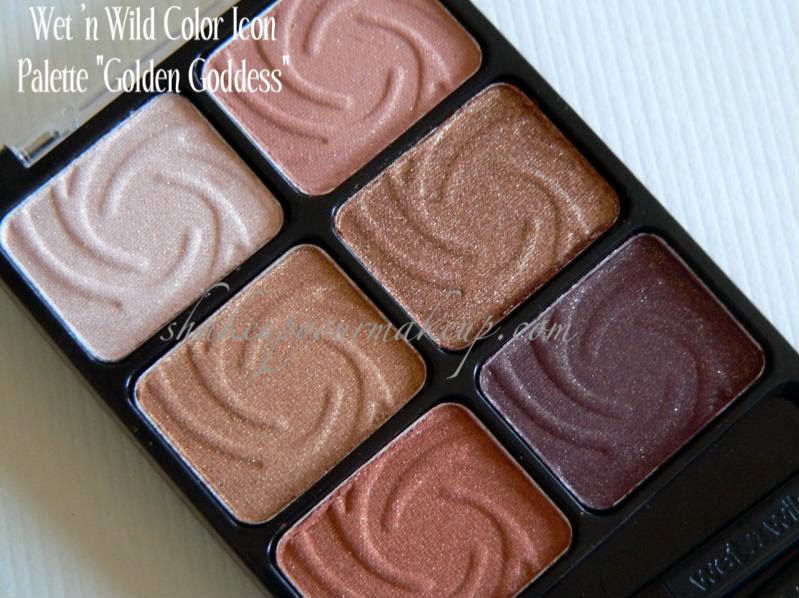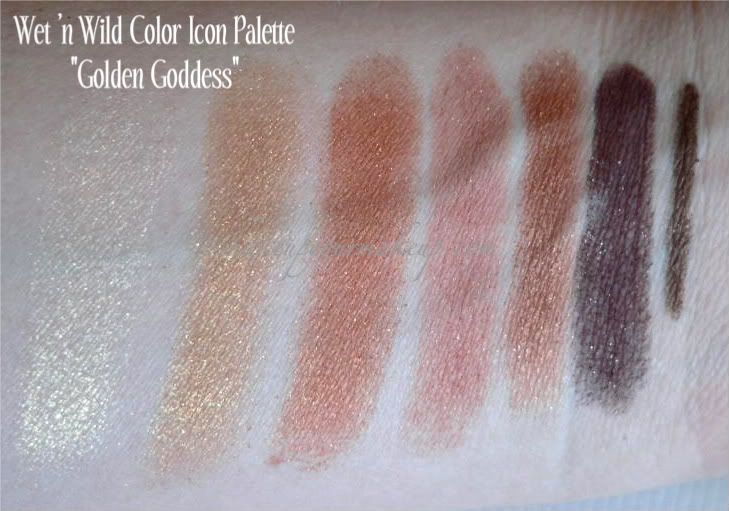 Snow Sprite: A set of greens (left side of palette) and blues (right side of palette). On the green side, the top is a light mint green, with an almost iridescent turquoise shimmer. The middle is a pale lime green shimmer, and the bottom is a beautiful evergreen with shimmer. On the blue side, although the top and middle blue's look different in the pan, when they are swathed, they seemed very similar to me, although the top might be a bit more of a silver blue than the middle, which is a true icy periwinkle. The bottom is a deep navy with shimmer. The pencil that comes with this is a deep silver/pewter color.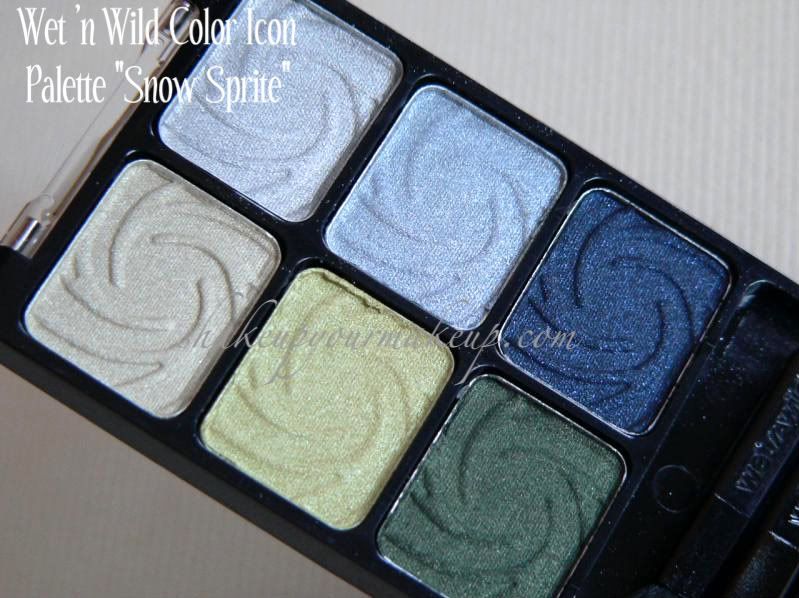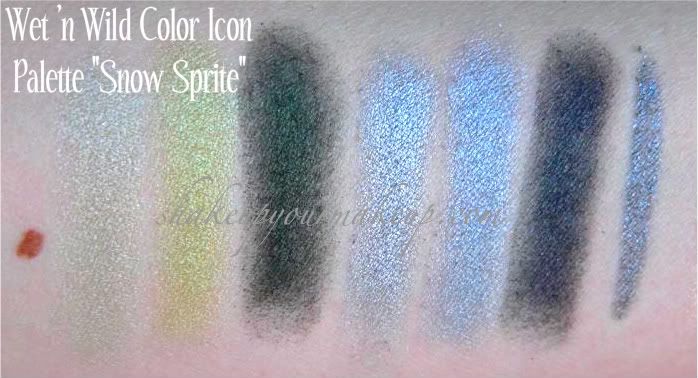 Sugar Plum Fairy: Probably my least favorite of the bunch, but simply because I don't wear mattes all that often. With that said, the consistency of the WnW mattes are quite nice and bendable, which was a plus! On the left side, the purples are cooler toned, and on the right side they are warmer. From the top left, a pale pink/white matte - this was practically invisible on my skin. The middle is a pale lavender matte, and the bottom is a grape matte. On the left hand side, the top right is a warm pink muted shimmer with golden sparkle - again, this was almost invisible on my skin tone. The middle is a muted plum with golden sparkle. The bottom left is a deep plum brown with golden shimmer/sparkle. These are all extremely pigmented, even for mattes, especially those on the right hand side. On a side note, the bottom right is an apparent dupe of Nars Mekong -
hop on over to Nouveau Cheap
for a look at them side by side. The pencil that comes with this is a gorgeous grape shimmer.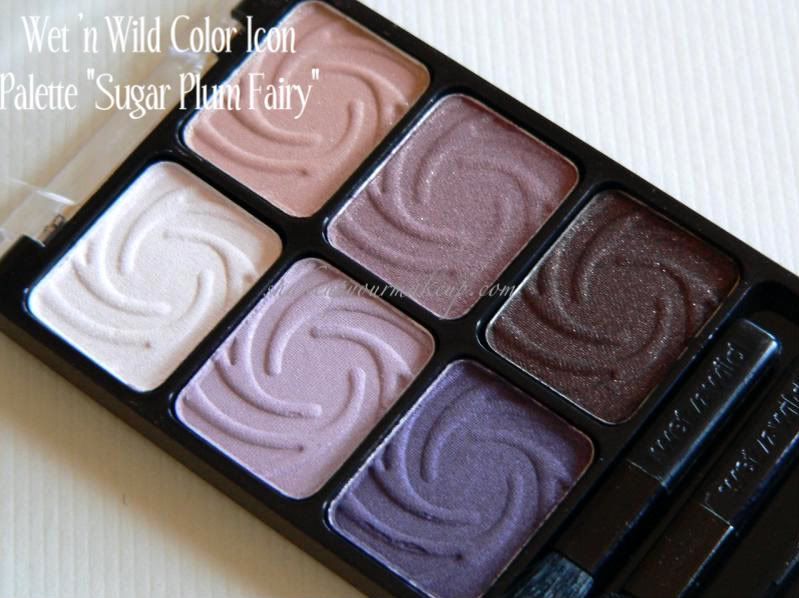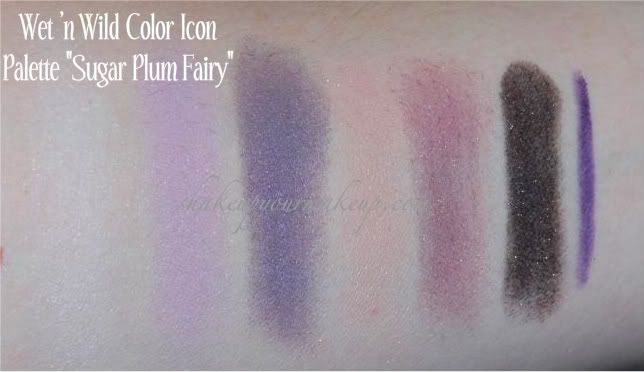 Night Elf: This set is quite unique. Although I doubt I will ever wear the red in this set, this palette is by far my favorite, especially with the duochrome on the bottom left (an apparent dupe of MAC's Club). Regardless, the colors in this set are extremely pigmented, smooth and creamy. The blendability was so easy, and the colors are so pretty! The colors are as follows: Top left is a pale, ice frost ivory. The middle left is a champagne frost - I wouldn't call this gold, it is truly a pale beige or champagne. Bottom left is the Club dupe, which is a chocolate brown shimmer with turquoise duochrome. Top right is a creamy, silver frost. Middle right is a matte (possibly bordering on satin) red. The bottom right is a matte black with silver sparkles. I was nervous about the black - sometimes the color can be so dark that it looks like you dipped your brush in a toner cartridge (all of you who work in an office know exactly what I mean!), but instead, this blended extremely well and wasn't overwhelming. Yes, I used a light hand, but regardless, I was impressed. If you use a shadow base, you will also pick up the silver sparkle without fall out. This palette came with a black shimmery pencil.
All four of the pencils are below. The consistency was pretty nice in these - I think the silver was a bit more difficult to use, but all-in-all, these are a better consistency than the original WnW pencils. I would put these right along with the other
Color Icon pencils I reviewed
a while back.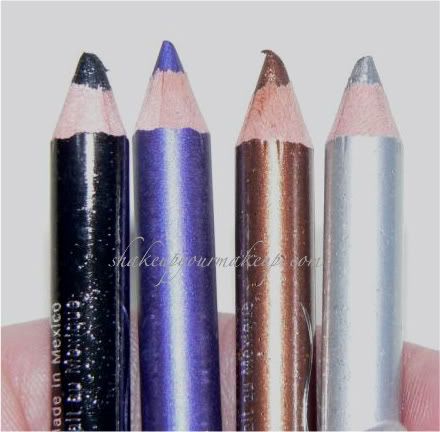 Well, all I have to say is I am totally impressed with these. Yes, there are colors that I won't use, but that typically happens with any palette. For me, it's the mattes, but if you are a matte girl, these appear to me to have a great consistency and pigmentation - who knows, maybe I'll convert? Well, I wouldn't go that far quite yet, but I was impressed! Hands down my favorite group is the Night Elf, followed closely by Golden Goddess (strictly because the colors are gorgeous in this set, and I can't pass up golds). All of the frosts have an extremely smooth and creamy texture, and the blendability is great. I have begun to play around with the colors, so I'll be posting some pictures soon!
So, who has been lucky enough to stumble across these beauties?