e.l.f. All Over Sticks in Persimmon, Pink Lilac and Pink Lemonade
8:00 AM
**EDIT** I just realized I switched the labels for Persimmon and Pink Lemonade in all my pictures!
I recently ordered quite a few things from e.l.f. cosmetics, so you will be seeing quite an onslaught of posts regarding some new and older items of there's. The real reason for my order was due to my love of the
tarte's Amazonia Cheek Stain in Perfect Rose
I ordered about a month back in a set from QVC. Since then, I have come to appreciate cheek stains quite a bit more and wanted to try some other brands. The three I ordered from e.l.f. aren't specifically cheek stains, but instead are all over colors, so they can be used on the eyes, lips, and cheeks as well. I chose to order Pink Lemonade, Persimmon and Lilac Frost - at $1 a piece, if they weren't any good, I wasn't really out a whole lot, in my opinion.
Lilac Frost is just as you would think - a pale, frosty lilac, which to me almost looks bubble gum pink in the tube. Persimmon is a really neutral pink with frost, and Pink Lemonade is a berry pink with champagne shimmer. All three are swatched below, and really quite pretty. Pink Lemonade is very pigmented, so it needs a lighter touch so you don't look like a clown, where Persimmon and Lilac Frost are both pale enough shades that if you have a heavy hand, it's easy to correct when blending into the skin.
The texture and consistency in these are a bit dry, so for those of you that like the tarte cheek stains, but find them too *wet* for your skin, this would be a nice alternative. Too me, the dryness made them a little more difficult to work with than the tarte, but again, I don't really have a problem oily skin - in fact, in the winter mine can be a bit on the dry side. As I said, Pink Lemonade is quite pigmented, so you definitely get some bang for your buck based on the $1 price tag for these items. I also found that they wear quite well, and I am applying them over Bare Escentuals foundation, not just to naked skin. The e.l.f. have a slight fragrance - not that of cosmetics, but a true fruity scent. This isn't so strong that you smell it all day, instead it reminds me of how a lipgloss or lipstick might have a bit of a scent that you can detect when you smell the tube, but not once it is applied.
The three swatches are below - they are frosty, but I didn't think I looked like a disco ball when I used them on my cheeks. I was also a bit concerned that these might emphasize my pores, but they did not do that either. The sticks blended quite well into the skin, and gave a nice color to the cheeks. They also layered quite well over each other - I used Pink Lemonade as my cheek color, and then added Persimmon over the top as a highlight of sorts - it worked pretty well!
Like I said, I wanted to try these because I love the tarte cheek stains, so I thought I'd give you a little side-by-side for reference. Below is the tarte stain in The Perfect Rose, next to e.l.f. Pink Lemonade. The colors look pretty similar in the stick, but in the swatches farther down, you will be able to see that the really are quite different. As I said, I actually prefer the consistency of the tarte stains better, but for the price, the e.l.f. worked quite nicely. I think your preference will depend on 1) if you are willing to splurge on the tarte, and 2) if you have oily or dry skin.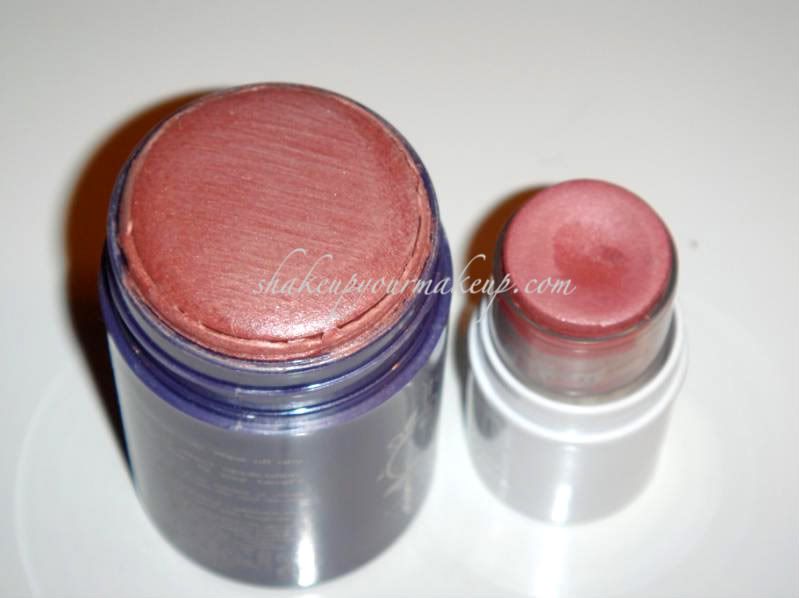 The Perfect Rose is a much warmer shade than Pink Lemonade, and actually if I had layered the Persimmon on top of Pink Lemonade, I may have come a little closer to the shade of the tarte stick. But, as a point of reference, there are how the colors line up...
Over all, would I buy these again? Absolutely - the price is fantastic, and the colors are really pretty. I have worn all three on my cheeks, and Persimmon and Pink Lemonade on my lips. They worked just as well as lip sticks as they did cheek colors. I am very pleased with the quality, and although my skin is a little on the dry side now that the temps have dropped here in the Midwest, I found application to be easy and the colors lasted all day.
Have you tried these e.l.f. All Over Sticks? What is your favorite color?