Hard Candy Meteor Eyes Baked Glitter Eyeshadows - Intergalactic, Lunar Eclipse and Space Cadet
9:26 AM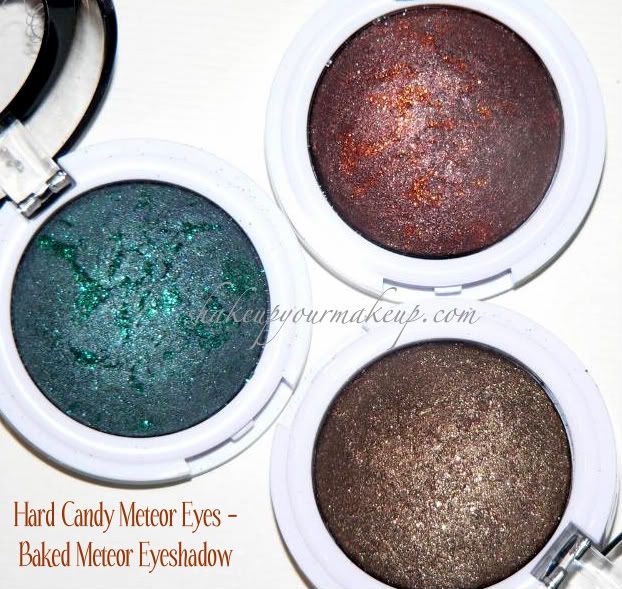 I recently snatched up three of the
Hard Candy Meteor Eyes Baked Eyeshadows
while shopping: Lunar Eclipse, Intergalatic, and Space Cadet. These remind me of the MAC Mineralize eyeshadows - specifically those from the Venomous Villains collection. These are baked shadows that have swirls of similar colored glitter through the pan. The colors are all very deep and bold, too, especially when used over a primer (I chose Fyrinnae's Pixie Epoxy).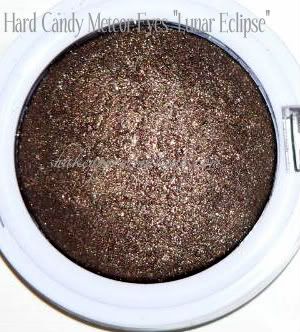 Lunar Eclipse: A deep cool gold with hints of copper and swirls of golden glitter. This is not a yellow gold, but truly a deep gilded gold shade. This would make a gorgeous liner...something on my "to do" list to try out.
Intergalactic: A deep chocolate copper shade with swirls of bright copper glitter.
Space Cadet: A frosty evergreen with swirls of bright forest green shimmer. This screams Christmas/Holidays - I immediately started to think of looks I could do for Christmas parties with this color. Beautiful!
Swatches were quite difficult to get until I used the Pixie Epoxy. I also had to forgo using the flash because it washed the colors out. I think the colors above a pretty true to life (at least on my screen), but at least you can see the colors and shimmer! I have used both above bare skin and Epoxy above so you can see the effect. If I didn't have a good sticky primer like the Epoxy, I would not like these shadows at all. There was no depth or character to the colors until applied over primer. Once I used the Epoxy, the color, shimmer and sparkle appeared.
These are absolutely gorgeous, but not for the faint of heart. If you are not a glitter girl, these will not appeal to you at all!
Who has tried these babies out? I believe they retail for $6 a piece, and for the size and quality, they are quite a steal!