New LashBlast Fusion Mascara and Wet 'n Wild Berry Shimmer Blush
8:59 AM
I heard that CVS was having some good specials this week, including BOGOFree on their Wet 'n Wild, 40% off Physicians Formula, and BOGOFree on Rimmel, so I thought I would see what my tiny store had to offer. I was pleasantly surprised to see a display of NEW LashBlash Fusion Mascara and a new Wet 'n Wild Blush called Berry Shimmer. Although the blush may or may not be that new, I decided to get it for the summer. I had yet to read anything about the new LashBlash mascara, either, so this was an immediate purchase seeing how much I love the original formula.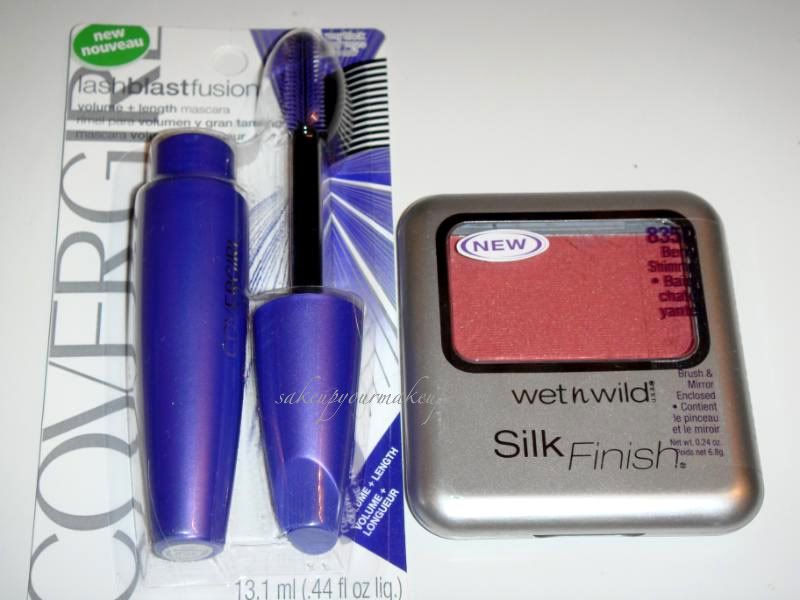 I will review the LashBlash Fusion Mascara tomorrow, but today wanted to swatch the new Wet 'n Wild Blush in Berry Shimmer. As many of you may remember, Pearlescent Pink is a supposed dup of Nars Orgasm blush,
which I posted about here (along with a few other drug store dupes).
The Pearlescent Pink is one of my favorite blushes I have, be it high-end or drug store. The color, pigmentation and consistency is great, and at $3.99 retail (or on sale if you are lucky!), you can't beat the price.
Seeing as the Wet 'n Wild display was all BOGO, I thought I'd get myself another Pearlescent Pink blush as backup. When I looked at the other blushes, I saw a "NEW" sticker on one (at the very bottom no less), and pulled it out. Berry Shimmer, the newest color blush in their collection, is a much deeper and shade of pink with golden shimmer. Berry is a great description for it! The pigmentation is just as good, if not better, than the Pearlescent Pink, the shimmer is apparent but not over-the-top, and the blush wears all day long. Since I am a very fair skintoned, I had to use a very light hand and light brush - I would suggest a skunk brush of some variety...whichever is your favorite! This allowed me to apply this color without looking like a clown. I will say, the deeper your skintone, the better this shade will look, so I am hoping for some sunny weather soon so I can get a little bit of a tan! :)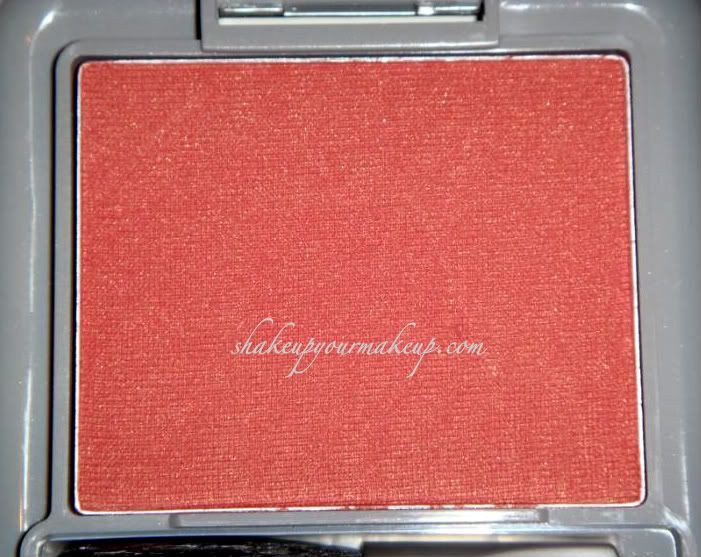 Since many of you own the Pearlescent Pink, I wanted to do a side-by-side comparison of the two. Below are the actual blushes in the pan, and below that are the swatches.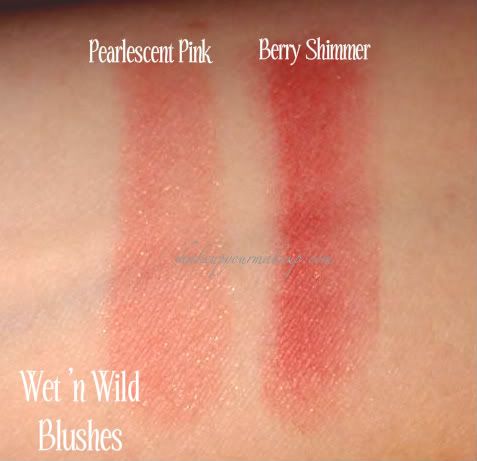 Like I said, this is very pigmented. I also used my fingertip to swatch this blush, so you get a little more *umph* in the swatch when done this way. But, needless to say, you get the idea about the color. It is an absolute beauty, and at BOGO, why not give it a try!