e.l.f. Luscioius Liquid Lipsticks: Raspberry & Perfect Pink and Mineral Lipgloss in Bare
2:59 PM
Who doesn't absolutely love a bargain...especially when it's a great product!? Well,
e.l.f. Cosmetics
had some new shades of their
Luscious Liquid Lipstickss
available, and I decided that at $1 a pop, it was due time I tried them out. I am so glad I did!
The Luscious Liquid Lipsticks are like a smooth, liquid, creamy and sheer version of a true lipstick. These particular lippies come in a twist bottom tube, where the product comes up through a large doe-foot applicator (there are close-ups of this process below). The colors are very well pigmented, but not over the top. You can easily apply one coat and have this be a simply sheer color on your lips with a hint of shine, or apply another coat over the top and get those wet, berry-kissed lips that look so beautiful in the summer - kind of like you've been sipping on a strawberry daquiri! I purchased two colors: Raspberry and Perfect Pink. I also picked up a
Mineral Lipgloss
, as I have been eyeing these for quite some time. The shade I chose was Bare, which is truly that - a rich skin-toned shade with little to no shimmer.
Below are some close-ups of the applicator. I find that this can make or break a product. Although I tend to lean towards brush applicators, the substantial size and felt covered applicator of the Luscious Liquid Lipsticks actually make these quite easy and efficient to apply, without overdoing it.
With the simple crank at the bottom of the tube, you release the product into the applicator at the top. Keep in mind, that your first go around will require 10-12 good twists to get the product to release on the applicator, but from that point forward, one to two twists will give you enough for an application.
Below are the two shades I purchased: Raspberry (top) and Perfect Pink (bottom). There appear to be two different amounts of products, but in reality this is the difference between cranking up the product to be dispersed out of the applicator (Raspberry), and how "full" your product looks prior to twisting the bottom (Perfect Pink). Now, don't let this deter you from ordering this product - they are only $1...yes...$1 a piece, and this product is so silky smooth, it will go for miles! Also, the fragrance is a light, sweet, mint. It reminds me of an old bubble-mint gum flavor I used to love as a child, but of course, they don't make any more!
I also purchased the Mineral Lip Gloss in Bare. I wanted to compare this product to the Bare Escentual Natural Lipglosses, which I absolutely adore. Bare is a deep skin tone or natural shade. It reminds me of a lighter terre-cotta color in the tube, although on the lips it turns out to be a beautiful deep lip shade. There are hints of silver shimmer in the tube, but in reality once applied, all you see is shine. No sparkles, grit, or shimmer is left behind or makes you look like a disco ball. This would definitely be the shade to go for if you are looking to enhance the natural shade of your lips with a hint of color and some shine.
The applicator is your standard doe-foot (below). I will say that the formula is much thinner than the Bare Escentuals Natural Lipgloss, but the e.l.f. Mineral Lip Gloss still lasts for quite some time on the lips. There is not any minty flavoring - if anything I smell a hint of vanilla.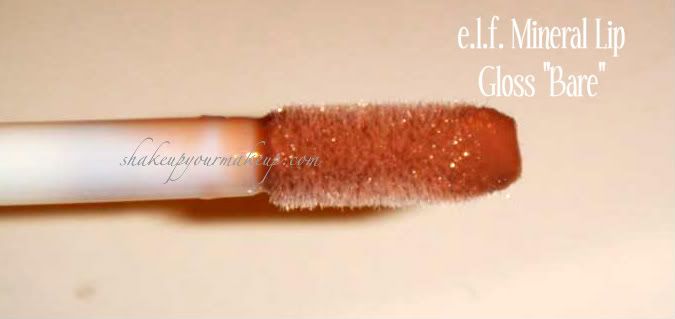 In addition to swatching on the arm (above), there are lip swatches of each lipgloss below. Please disregard the silly freckles I have - I have no foundation on and must have been sitting out on the patio during the day, making my little freckle-friends appear! :)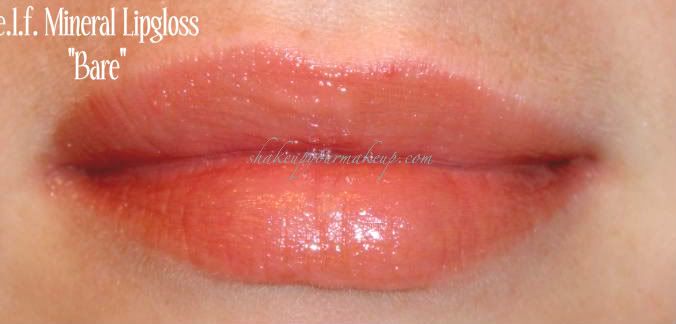 These are absolutely beautiful. I would highly suggest you pick up the Luscious Liquid Lipsticks if you plan on placing an order with e.l.f. anytime soon. They are beautiful, leave your lips soft and supple, and have just the right amount of color. The tubes, easily the size of a fat pen, fit perfectly in your purse - what ease at $1 a pop!
Who else has tried these? What is your favorite e.l.f. product?