Review: NEW Cover Girl LashBlash Fusion Mascara "Very Black"
10:06 AM
As mentioned yesterday, I stumbled up on the new
Cover Girl LashBlast Fusion
mascara at my local CVS at the end of last week. I couldn't believe that my store would actually have something new in a timely fashion, so I was very excited to get this and test it out!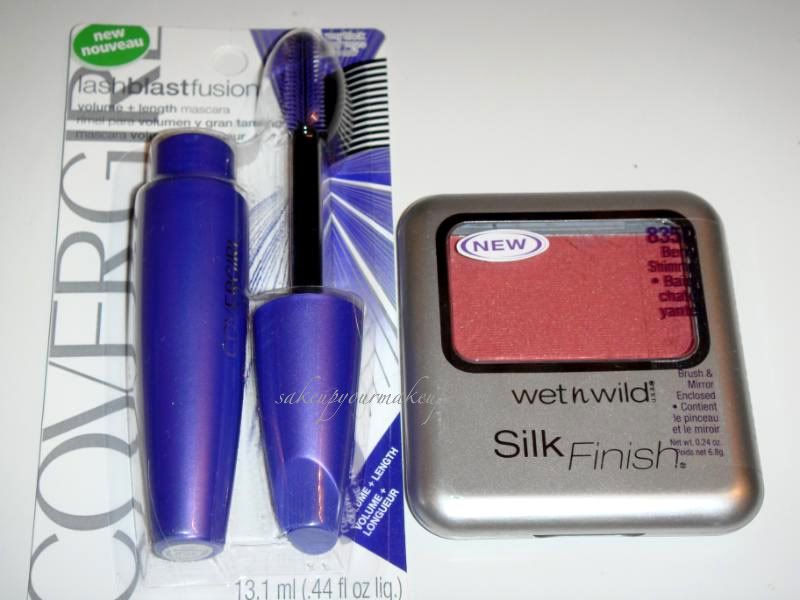 What actually drew my eye to the display was the beautiful, pearlescent purple tube! I mean, how can you walk by something that bright and shiny and not purchase it?! Upon closer inspection, I read on the package that this mascara is supposed to lengthen AND volumize my lashes, so it was an instantaneaous sell! I'm such a sucker for all-in-one products and pretty packaging! Cover Girl, you did a great job on that one!
The actual tube itself is the same as the bright orange version of the original product,
LashBlast mascara
. It is thick, has a thicker wand, and the same bristle-packed brush, although it appears to taper a little bit more towards the end than the original or Luxe versions do --
click her
e to see my review of the
LashBlast Luxe
, which has a closeup of the brushes.

The product itself comes only in Black right now, although the website does indicate that more colors are coming soon.
I find that testing new mascaras is a difficult task because it usually takes days to master the techinique and applicatioin of a new product - and mascara is no exception. The actual formula of the Fusion version seems to be drier and more difficult to work with than the original LashBlast. I have found that I have to add layer upon layer of product to achieve the desired fullness in my lashes, that to be quite honest, would have taken one or two swipes of the original version. I'm not sure if this is because the product itself is thinner, or if it is due to the fact that it dries so quickly and becomes difficult to manipulate upon application. I really didn't see that much of a difference in length, either. I honestly haven't tried the
LashBlast Lenghth
(in the yellow tube), although I had read rave reviews online upon it's release. But, in comparison to other lengthening mascaras, this one would receive an *eh* in my book.
On the bright side, this mascara did not clump, flake, or leave any residual product around the eyes, even after hours of use. Because of the consistency and lightness of the formula, it was a breeze to remove with just water and my facewash - no makeup remover or extreme scrubbing needed. Also, because the formula dries so quickly, I didn't get any excess mascara on or around my eyes during or inbetween application of coats, which sometimes becomes quite the problem with thicker or *wetter* versions of mascara.
Below is a closeup of the product on, this being three coats. As I said, it didn't clump, which is nice, especially since I had to apply three coats to get the desired thickness. The product does coat pretty much every lash, as well, which gave me that desired "fringe" effect that everyone is looking for in mascara.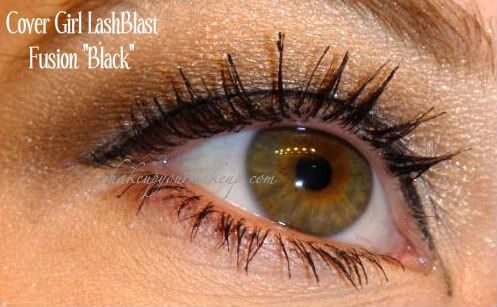 Retail Price: $8.99 - $9.99
Where to purchase: CVS, Walgreens, Walmart
Product: 3.5 out of 5
Price
: 4 out of 5
Packaging
: 4 out of 5
Overall:
3.5 out of 5
Would I purchase again?
Upon my first week or so of use, I would have to say no, but I am going to give this a few more weeks of trial before I finally make my commitment one way or another. As I said, I prefer the original formula of LashBlast to this new version, so I would tend to go for the bright orange tube before this purple one. I think it's simply a matter of ease of use, and I don't find this particular formula to be as user friendly for me as others. Just note, this isn't to say that it would be for you, though!
I'd love to know if you have tried this and what your thoughts are - please let me (and all my readers) know!