FOTD Sassy Minerals "Dreamy" and "Lyrical"
8:00 AM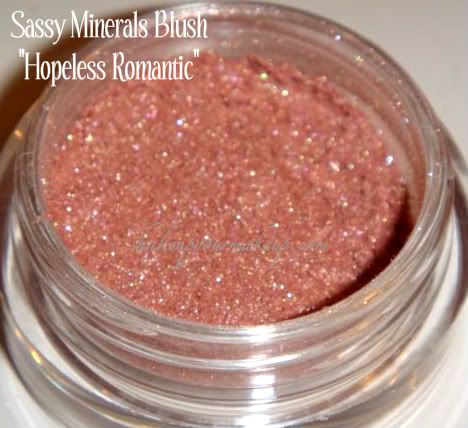 I find that when the weather warms up, I am more apt to play with colors. Today was no exception, and after receiving the beautiful blues and greens in my Sassy Minerals order last week, I couldn't wait to try both of them out together: Dreamy and Lyrical. Dreamy is the beautiful mint/green/turquoise and Lyrical is a deep sparkly turquoise. Although I will definitely be using Lyrical as an eyeliner, I thought I'd give it a try as an actual shadow - the pictures below do not do it justice! Unfortunately, with the lighting and flash, Lyrical looks almost black, but in person it is definitely a deep and rich turquoise.
I am so pleased at how beautiful the Sassy Minerals eyeshadows are. For as glittery and sparkley as these two shadows are, they really do blend very well together. I have had very minimal "dragging", where you see creases and skips in the blending. Even if this has happened, it's as easy as taking the blending brush back to it in order to get the blending complete. I will say, however, that with these two eyeshadows the Fyrinnae Pixie Epoxy is a must! This allows the shimmer to be maintained throughout the day, as well as the true colors and pigmentations of the shadows to litterly shine through.
Face:
Bare Escentuals Foundation "Fair"
Bare Escentuals Tinted Mineral Veil
Nars Blush "Laguna"
Sassy Minerals Blush "Hopeless Romantic"
Eyes:
Fyrinnae Pixie Epoxy - all over lid
Sassy Minerals "Dreamy" - inner corner, lower lashline on top of eyeliner
Sassy Minerals "Lyrical" - outer corner and blended into crease
MAC Eyeshadow "Phloof" - high light
Mary Kate & Ashley Liquid eyeliner "Black" - when it was tacky I swiped Dreamy over the top to get some glitter.
Milani Color Brilliance Eye Pencil "Aqua" - lower lashline
Maybelline Pulse Perfection Mascara "Black"
Lips:
Bare Escentuals Buxom Lipgloss "Zena"
Click on any of the pictures to see them enlarged...