Royal Purple EOTD: Fyrinnae Shinigami, Taylor Made Minerals Chintzy, Stila Barbie Loves Stila Palette
10:29 AM
Royal Blue has never been one of my favorite colors, let alone something I would consider using for an eyeshadow...until now. I found the cutest shirt at Forever 21 for $11 the other day, and as a result, I had to figure out what type of an eyeshadow combination I was going to use with it. Of course, the shirt was the deepest royal blue, almost purple, that I had in my wardrobe, so this was going to be a new venture for me! I decided this was a great opportunity to use some of the newest colors since my birthday, including the purple/blue shade from the Barbie Loves Stila palette and Fyrinnae's Shinigami that I just ordered from their Halloween 2009 collection. Throw in a little Taylor Made Minerals Chintzy, and your done!

Below is an old picture from the first Taylor Made Mineral order I received - Chintzy is in the top row, 2nd from the left. It is a very pale ivory/gold shade with tiny golden microglitter in it. This is a gorgeous eyeliner, and now that Fyrinnae has the Pixie Epoxy, this eyeshadow is a dream to apply. It used to have fallout everywhere, otherwise, and as a result, it has been sitting in my makeup drawer for months! The Fyrinnae and Stila are also pictured below, as a friendly reminder of the colors.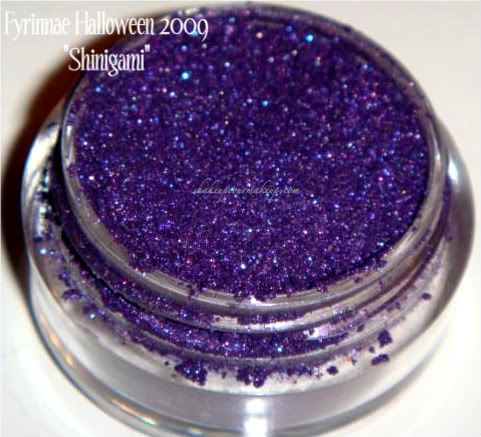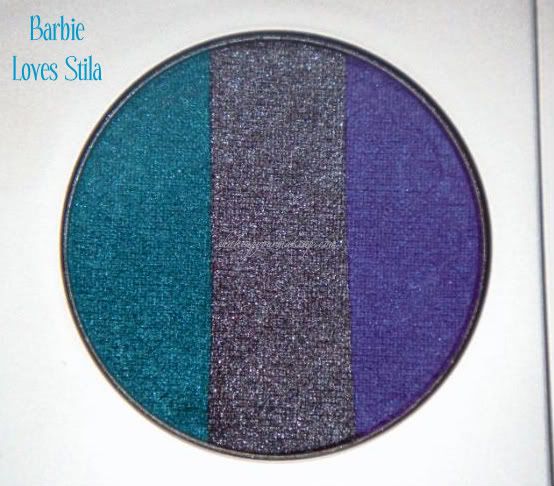 To create this look, I first put UDPP all over the eyelids, topped off with Fyrinnae's Pixie Epoxy.

Face:
Bare Escentuals Foundation "Fair"
Bare Escentuals Feather Light Tinted Mineral Veil
Laura Geller Blush 'n Brighten "Golden Apricot" - contour
Laura Geller Blush 'n Brighten "Pink Grapefruit" - blush

Eyes:
Urban Decay Primer Potion - all over lid
Fyrinnae Pixie Epoxy - all over lid
Taylor Made Minerals "Chintzy" - inner corner lid
Stila "Barbie Loves Stila Palette" - deep purple/blue - middle of lid
Fyrinnae "Shinigami" - outer corner blended into contour/lower lashline
MAC Pigment "Vanilla" - highlight
L'oreal HIP Chrome Eyeliner "Gold Charge" - lower lashline
Mary Kate & Ashley Liquid Eyeliner "Black"
Rimmel Volume Mousse Mascara "Extreme Black"
Individual false eyelashes applied to outer corners of upper lashline

Lips:
Revlon Colorstay Lipstick "Rich Raisin"