Bare Escentuals Beautiful in Pearls Collection I
8:00 AM
I received my Bare Escentuals Beautiful in Pearls Collection the other day and wanted to share everything with you.



First of all, let me just tell you how pretty the packaging is. It's hard to see in the pictures, but it is very pretty, and perfectly suited for holding things (I'm using it to store my brushes).

What is it: It's only natural that we present a pearl powder infused collection of gorgeous, glistening hues for eyes, face, and cheeks. The lustrous, creamy texture and subtle iridescence has been prized by collectors, revered by artists, and appreciated by women throughout history.

This exclusive 10-piece set has been infused with real cultured freshwater pearl powder and includes luminous colors wearable on every complexion plus all the brushes needed to create the total look.

Who is it for: For both bareMinerals newbies and makeup mavens. The set works with all skin types and complexions.

Why is it different: For the first time ever, Bare Escentuals is working with Honora, an industry leader in fine cultured freshwater pearls to present an amazing offering full of shades with rich depth and texture. With this collection of Honora pearl powder infused colors, you can easily achieve a look that beautifully reflects light off the skin.

How do I use it: Beautify your eyes with a shimmering wash of Blissful Pearl eye color from lash line to brow with the Precision Eye Defining Brush. Create intriguing depth with a layer of Magnificent Pearl eye color blended into the crease contour with the same brush. Bring out your eyes by applying Big & Bright eyeliner on your upper and lower lash lines in a thin or thick line, then blend it with the smudge tip for soft effects. It's gentle enough to apply to the inner rims of the eyes for dramatic definition. Finish by sweeping lashes with Flawless Definition Mascara to define and emphasize every single lash. Use the pointed end to reach even the smallest lashes. Add a natural-looking glow by buffing Precious Pearl blush along the apples of your cheeks with the Tapered Blush Brush. Buff the Brightening Pearl Mineral Veil over your face with the Flawless Application Face Brush for a soft, subtle finish. Glide on Sugared Strawberry 100% natural Lip Gloss for sheer, shimmering color.

From Bare Escentuals.

Includes:

0.02 oz Blissful Pearl eye color (seashell peach)--exclusive to QVC until December 31, 2012
0.02 oz Magnificent Pearl eye color (charcoal taupe)--exclusive to QVC until December 31, 2012
.012 oz Big & Bright Mineral Eyeliner Pencil (intense black)--worldwide launch and exclusive to QVC until January 29, 2010
0.33 oz Flawless Definition Mascara (black)
0.03 oz Precious Pearl blush (dusty pink)--exclusive to QVC until December 31, 2012
0.07 oz Brightening Pearl Mineral Veil (subtle pearlescent)--exclusive to QVC until November 1, 2010
0.14 oz Sugared Strawberry 100% natural lip gloss (rose berry)--exclusive to QVC until November 1, 2010
Precision Eye Defining Brush
Tapered Blush Brush
Flawless Application Brush
Eyeliner made in Italy; Mascara made in Canada; Brushes and box made in China; All else made in USA
This set introduces a brightening mineral veil, beautiful blush and two gorgeous eyeshadows. This also introduces the first and newest addition to their line, the mineral eyelining pencil.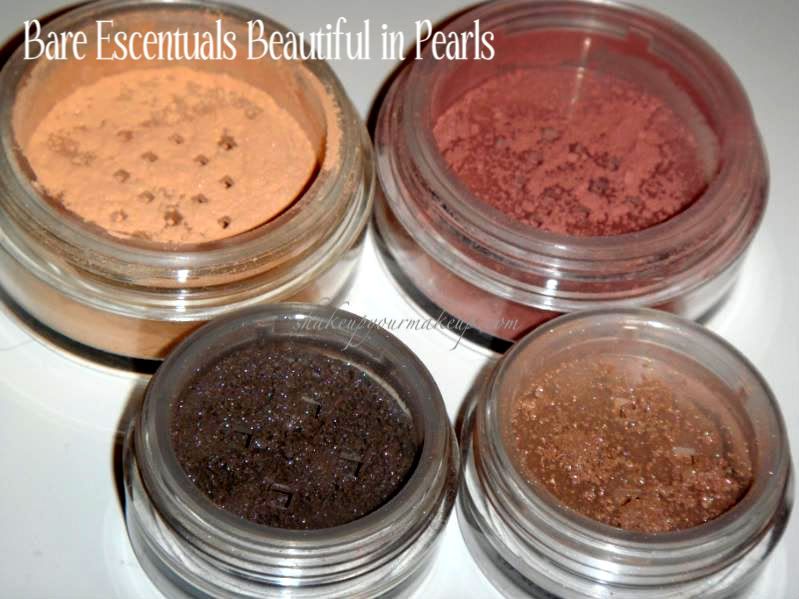 The mineral veil is very light, just as the standard veil in the line. This, on the other-hand, has a very fine hint of pearl, without being shimmery. This truly helps "brighten" the skin.






The blush in this collection is a deep pink, again, without tons of shimmer and instead just a hint of pearl. The color is called Precious Pearl, and this is a very versatile shade for all skin-tones, in my opinion.
Blissful Pearl is the lighter shade of the two
eyeshadows
in this set. This is described as a peachy seashell color. To me, this is a very neutral,
skintone
to almost tan shade with golden shimmer.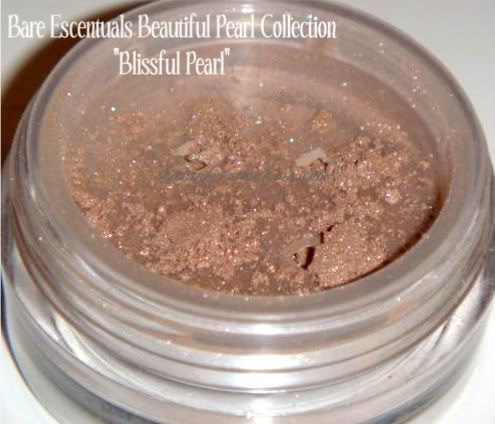 Magnificent Pearl is the darker shade - this is a smokey taupe with iridescence as well. I love this color! It is dark enough to work as a crease, but not so dark that it's overwhelming. I also used this as an eyeliner, and it's beautiful too!
Finding a smooth and creamy pencil eyeliner might be one of the most difficult tasks when it comes to makeup. On top of that, it is essential that the liner doesn't smear and move. I think that Bare
Escentual's
hit it right on the head when created this liner. The pigmentation is fantastic, the color is beautiful and it doesn't tug, pull or smear. (Please disregard the makeup smeared on the pencil - I took the picture
after
I tried out the colors!)

The swatches are all below. I think you can even see the "brightening" effect of the mineral veil.
Below I used the entire kit - its a great option to introduce yourself into Bare
Escentuals
- the colors are neutral, versatile and functional.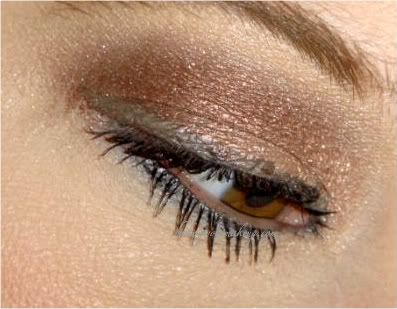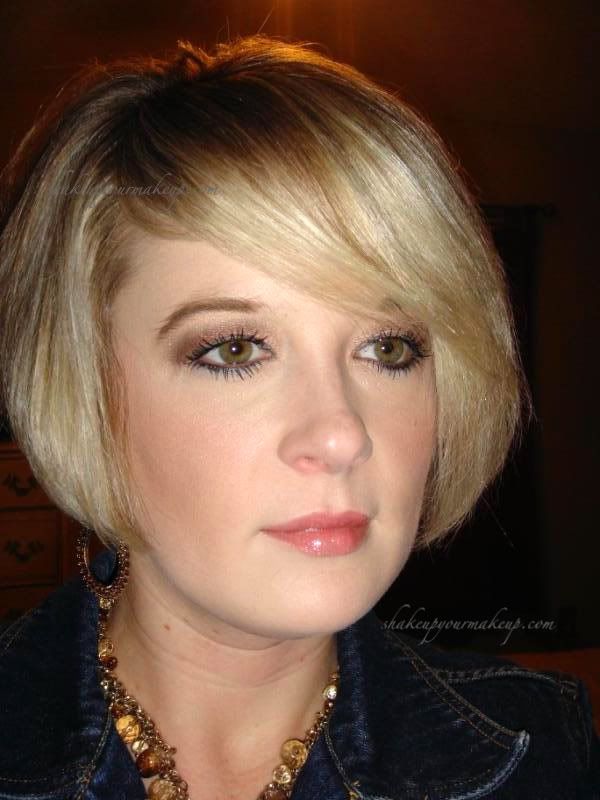 Bare
Escentuals
"Fair" Foundation
Bare
Escentuals
Brightening Mineral Veil
Bare
Escentuals
"Precious Pearl" Blush
Bare
Escentuals
Blissful Pearl -
inner corner
Bare
Escentuals
Sex Kitten -
outer corner, crease
Bare
Escentuals
White Gold -
highlight
Bare
Escentuals
Magnificent Pearl -
liner
Bare
Escentuals
Flawless Mascara
Bare
Escentuals
Sugared Strawberry